Pixelmator App makes $ 1 million in just twenty days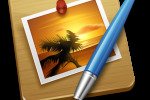 The Pixelmator app is about to give Apple's App store all types of good press.  The image editing application has been on sale only twenty days and has already surpassed the million dollar mark.
The bulk of the sales was at a discount of $29.99, a discount from the original price of $59.  Pixelmator co-founder Aidas Dailide said that he is happy to pay Apple the 30% cut of it's sales that is mandatory of all App Store vendors.  "The 30 percent cut is definitely worth it, " Dailide says, "The increase in sales and exposure is worth more than that. Especially in our case."
The co-founder was mum on how large was the sales increase prior to being available on the App Store, but indicated that "the jump in sales was dramatic."  Dailide's loud proclamation of happily accepting Apple's 30% cut has some critics calling him "the Apple troll", but with this much exposure and purchases in such a short amount of time I doubt he cares.
[Via All Things Digital]