Pixela digital tuner helps shrink portable TV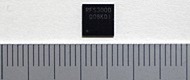 Mobile TV may have met with patchy success – check out Philip Berne's diatribe from last week on where the technology goes wrong – but if Pixela have their way we could be seeing it show up in more devices (and smaller ones too).  They've unveiled their RFS3000Q multiband digital tuner, a 6 x 6 mm square receiver that supports the Japanese ISDB-T system as well as North American ATSC and European DMB-T transmissions.
In comparison to previous tuner chipsets, the Pixela RFS3000Q is 40-percent smaller; that means smaller overall electronics.  It also brings the surface acoustic wave (SAW) filters and low-noise amplifier (LNA) on-die, further reducing external components.  Mass production is expected to kick off in fall 2010; no word on whether Pixela have signed up any takers as yet.
[via PC Watch]