Pixel 4 leaked spec sheet leaves little to the imagination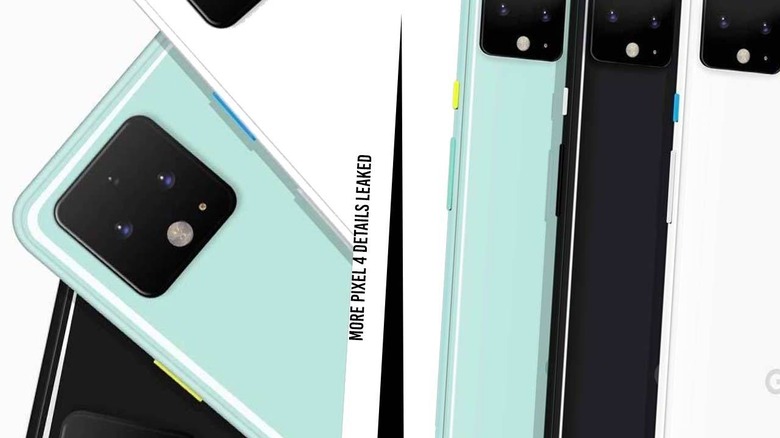 By this point, we know quite a bit about the Pixel 4. Aside from what Google has straight up told us prior to launch, the phone has also been the subject of a number of leaks. This time around, what seems to be a complete spec sheet for the Pixel 4 has leaked out, leaving little guesswork to consumers ahead of its October 15th reveal.
This spec sheet comes from 9to5Google, and it gives us pretty much every detail that matters. Both the Pixel 4 and Pixel 4 XL share a lot of hardware, but there are some differences between the two devices. Most obvious is the difference in displays – while the Pixel 4 has a 5.7-inch Full HD+ display, the Pixel 4 XL has a 6.3-inch Quad HD+ display.
Both displays seem to of the OLED variety and both seem to have variable refresh rates that go up to 90 Hz. Another point where the phones differ is, unsurprisingly, in battery size. The Pixel 4 sports a 2,800 mAh battery while the Pixel 4 XL is outfitted with a 3,700 mAh pack.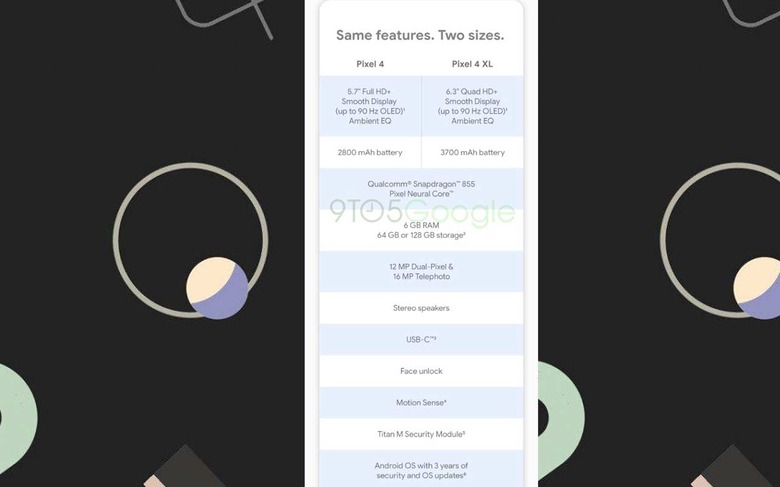 From here on out, both phones share every specification listed. Both phones use a Qualcomm Snapdragon 855 and Pixel Neural Core, the latter of which seems to be an image processing unit that's replacing the Pixel Visual Core from the Pixel 3. Both phones also have 6GB of RAM and either 64GB or 128GB of storage.
Around the back, we'll find 12MP dual-pixel and 16MP telephoto cameras. Security on both devices consists of support for face unlock and Google's Titan M security module. Finally, Google says in its spec sheet that the Pixel 4 and 4 XL will use Android OS – the exact version wasn't specified – with three years of operating system and security updates.
This leaked spec sheet also offered details about what's in the box alongside the Pixel 4. Box contents amount to the phone itself, a 3-foot USB-A to USB-C cable, an 18W USB-C charger, a quick switch adapter, SIM tool, and finally, a quick start guide. Earbuds and a USB-C to 3.5mm headphone jack adapter are noticeably missing from that list, so you'll need to look elsewhere when it comes to securing a pair of headphones for your new phone.
We're getting close to the official reveal of the Pixel 4, which is when we'll find out how many of these leaks were accurate. Google is set to reveal its new phones on October 15th, and we'll be covering that event as it happens, so check back here at SlashGear for more.