Pixel 4 hands-on: A better camera is just the start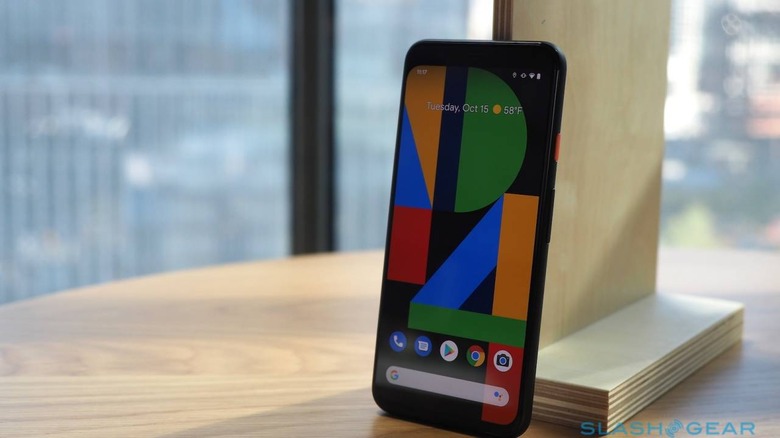 Google's Pixel 4 is probably the worst-kept secret in smartphones in recent years; all that was missing was the new Android flagship being inadvertently left in a bar and sold. Still, it's a testament to just how excited phone-buyers and tech-followers are about things like Google's computational photography that, even with the cat well and truly out of the bag, interest in the Pixel 4 and Pixel 4 XL remains so high.
It's a mixture of the familiar and the new. Google's industrial design feels a little more haphazard than Apple's; the Pixel 4 looks and feels like an assembly of parts, unlike the more seamless-whole of the iPhone 11 Pro. That's not to say it's cheap in your hand. The metal frame and glass back – either matte or glossy, depending on the color – are sturdy, and the square camera bulge feels very... intentional.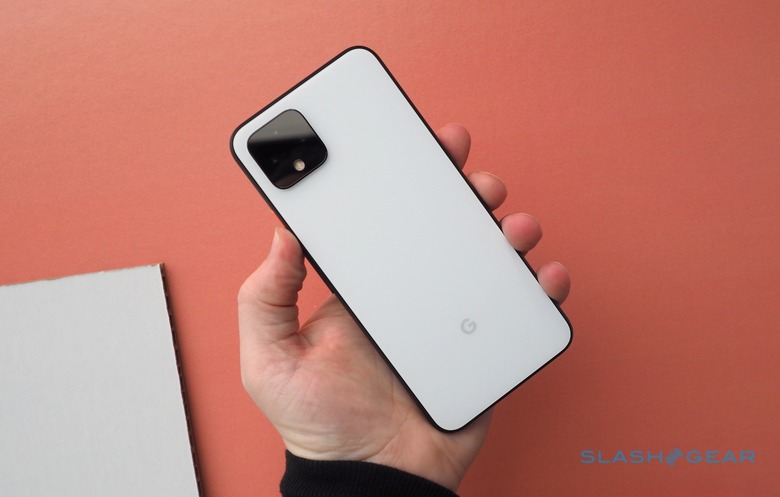 The cameras are why most people are excited about Google's smartphones, of course. The company opted to add a 16-megapixel telephoto lens alongside the regular 12-megapixel camera this time around, much to the consternation of those who would've preferred an ultra wide angle instead. I'm team-telephoto, so I'm fine with the decision, and I can only assume that Google had market research indicating which consumers would gravitate toward the most.
As before, the camera is a mixture of hardware and doubling-down on software. Night Mode has been upgraded, there's a new Super Res Zoom, and Live HDR+ is more adept at balancing bright and dark scenes. The results, even from just a few sample shots and Google's own demo images, look incredible, but what's arguably more interesting is how straightforward the Pixel 4 makes actually using these features. Even the ability to adjust tone and other qualities with in-app sliders, as you frame the shot, is unexpectedly easy.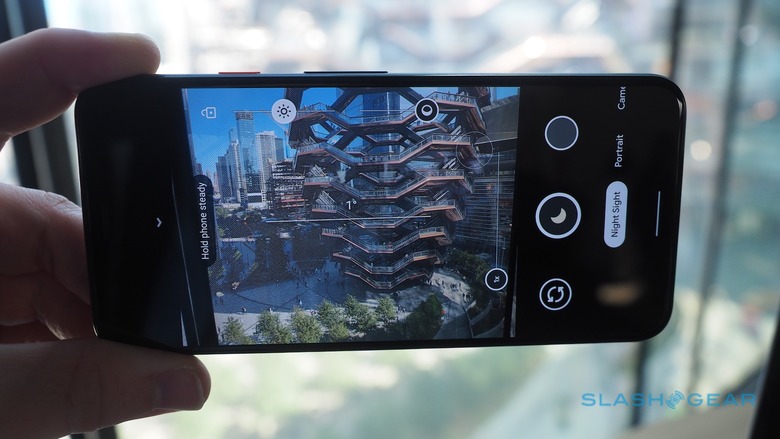 The message there is straightforward. Other phones may have advanced modes that you can switch between, but only a few actually make capturing in them easy. Being able to see exactly what Live HDR+ will capture from the preview is a huge improvement. I'll have to pit the Pixel 4 directly against the iPhone 11 Pro to see whether Google or Apple now has an edge – spoiler: I'm guessing that both will be capable of great results, and it'll come down to a matter of individual taste as to which is "better" – but there's really a whole lot here to like.
Unlike in previous years, though, there's less of a feeling that the Pixel is really just a way for Google to package its computational photography talents. Motion Sense, using the Soli radar chipset that accounts for the big bezel above the Pixel 4's display, is clever, though I'm still not convinced the phone form-factor is the best place for it. Being able to swipe to control music playback, snooze alarms and dismiss calls with a wave, or adjust the volume is useful, but I'm not sure actually reaching down and tapping the touchscreen is much extra work. Put it in a smartwatch like the original Project Soli concepts, then you're talking.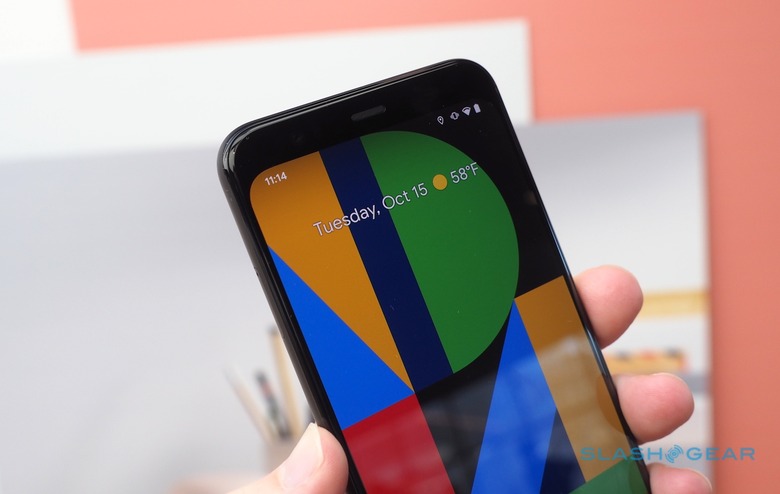 Then there's the 90 Hz screen. There's definitely a visible improvement in scrolling through lists and such, which now look crisper and snappier. Ambient EQ has been pulled across from the Nest Hub smart displays, adjusting color tone depending on ambient lighting conditions; Google can also drop down the refresh rate when higher speeds aren't required, so as to save on battery life.
I have to admit, I'm not convinced that Google has fitted sufficiently large batteries in the Pixel 4 and Pixel 4 XL. In a year when we praised Apple for making slightly thicker iPhone 11 and iPhone 11 Pro handsets in order to squeeze in bigger battery packs, the Pixel 4 and Pixel 4 XL's comparatively small 2,800 mAh and 3,700 mAh respectively feel... small. Google insists they'll last all day, and charge more rapidly with 18W fast-charging (and an 18W charger in the box, which is welcome) and Qi wireless charging, but I don't think it's unfair to be concerned.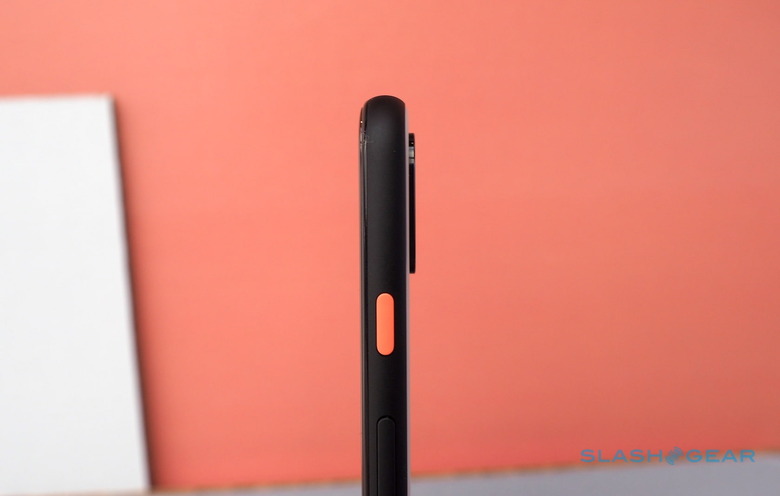 The other big change is the switch from a fingerprint sensor to face recognition. That's something I'm going to have to set up and live with, but Google is promising it's fast... really, really fast. Biometrics seem to divide people when it comes to what they prefer between face or finger – or just an old-fashioned PIN – but the convenience of a speedy face unlock is compelling.
Last but not least, there's the Neural Core. If Motion Sense feels a little half-baked, Google is using its onboard AI processor to good effect. Being able to do accurate, live voice transcription without an internet connection could be a game-changer for anybody attending classes, doing interviews, or just wanting to take easy notes they can search through after. That alone could end up worth the price of admission.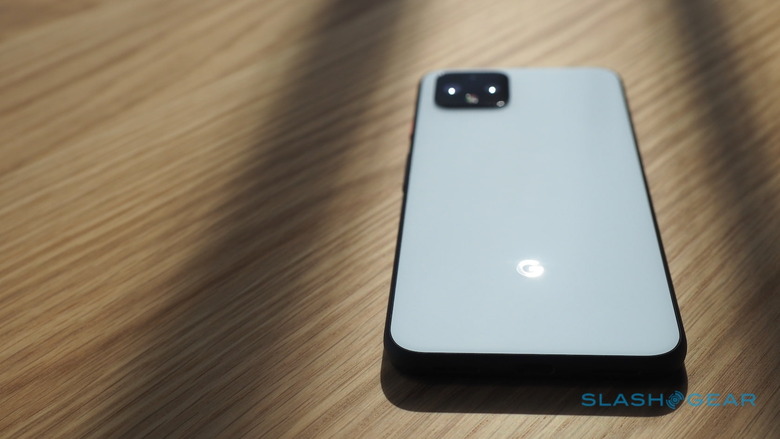 As for that price, Google is asking $799 for the Pixel 4, and $899 for the Pixel 4 XL. They'll be compatible with all the major US carriers, another improvement over previous-gen phones, and come in Clearly White, Just Black, and a limited-edition Oh So Orange. Expect them on shelves from October 24, and we'll have a full review soon.