Pixel 2 gets an improved, unofficial Pixel Launcher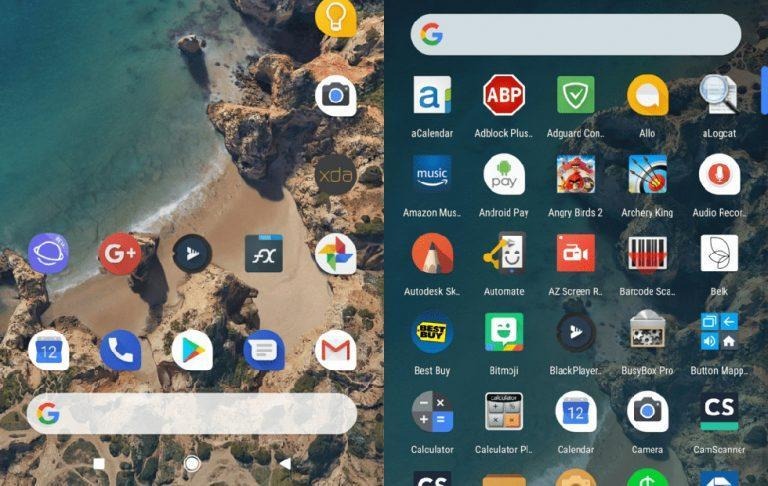 Most of the time, when Google launches a new smartphone, Android modders and developers scramble to take whatever new launcher it has and make it available for other smartphones. This time, things have come full circle with a new third-party Pixel Launcher made for the new Pixel 2 and Pixel 2 XL phones. The modified Pixel Launcher pretty much keeps the simplicity of the original while adding a few customization options to satisfy the different aesthetic tastes of different users.
Google has never been one to offer a lot of options for its launchers, be it the old Nexus Launcher to the Google Now Launcher to today's Pixel Launcher. The large number of alternative app launchers almost makes that moot, but some might consider options like Nova Launcher a bit overkill.
XDA Senior Member sharkie405 is offering a sort of a middle ground. A Pixel Launcher that sticks close to the original but has a few variants. The catch is that, unlike Nova Launcher and others, there are no checkboxes to tweak those options. Instead, for each variation of the launcher, you need to install a completely separate Pixel Launcher APK for it.
The biggest catch, however, is that it only works on a rooted Pixel 2 phone. It also has to be installed manually by copying over the APK to a specific location. The ZIP files can't simply be flashed due to the lack of custom recoveries for Android 8.1 on the Pixel 2 phones.
Here is a list of the mods that were made in this bundle of Pixel Launchers:
• Always colored Google G in home screen search bar regardless of wallpaper (optional)

• Slightly smaller icons

• Removed text from home screen icons

• Removed text from app drawer icons (optional)

• Removed page indicator

• Removed home screen app drawer up arrow

• Added two more rows of icons to the home screen (this automatically adds those extra rows to the app drawer as well)

• Removed white haze background from hotseat (optional) *Light theme only. Dark theme doesn't have it.

• Removed white background from app drawer. There is still a slight, mostly-transparent background left. (optional – but comes automatically with the "no hotseat background" mod) *Light theme only. Dark theme doesn't have a white app drawer background.

• In the "no app-drawer background" mods, the icon text has been changed to white with a text shadow so it shows up better regardless of wallpaper used. *Light theme only. Dark them text is already white.
If any of those appeals to you and you have an already rooted Pixel 2 phone, hit the source link below to download one or all of them. The modified Pixel Launcher was tested on Android 8.1 but some owners still on Android 8.0 or even 7.1.2 have reported success in installing them.
SOURCE: XDA