Pivothead video glasses can record in 1080p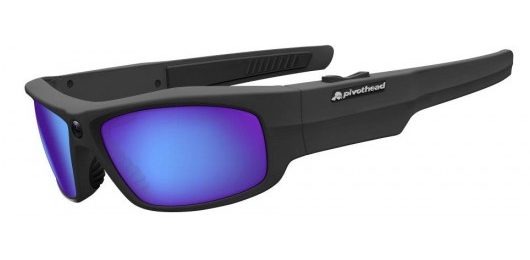 Pivothead has introduced its first entry into the market of sunglasses with built-in video cameras. Outdoor enthusiasts and thrill seekers get to protect their eyes and record what they see during their adventures. And now with the new Pivothead video glasses, they get to record full HD 1080p video and even take 8-megapixel stills.
The Pivothead video glasses feature gyroscopic image stabilization and continuous auto-focus, which kick in when "Active Mode" is selected. Videos can be shot at 30fps in either 720p or 1080p or at 60fps in only 720p and are saved as in H.264/MPEG-4 format. The video glasses also offer "Spectator Mode," "Social Mode," and "Black & White Mode."
You can simply wear the glasses as regular sunglasses and then when you need to record something you turn on the camera by tapping a button on the bottom of the left side. Pushing a button on top of that side begins recording in the default mode of 1080p at 30fps.
The settings for the glasses can be changed via various ways of holding down the buttons, reminiscent of adjusting old sports watches. LEDs on the interior of the left side give feedback while you do this. But to save the hassle, you can simply connect the glasses via USB to your computer and adjust the settings in the Glasses Manager software. Pivothead expects to start shipping the glasses in April, priced at $349.
[via GizMag]