Pivot Power Strip by Quirky Makes Charging Easier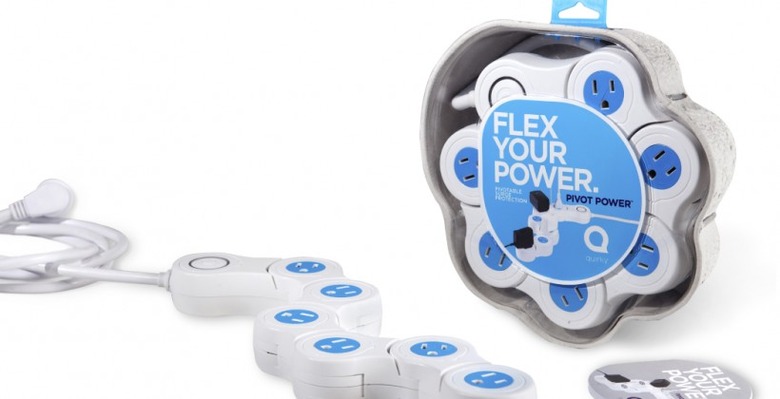 We have all been there, 30 outlets, but only able to use 6. Nothing is more frustrating than buying a monster power strip with 30 or more outlets only to find most of them are un-useable. Not because there is something wrong with the outlets, but the shape of the power adapter you are plugging in ends up covering 2 or 3 additional outlets. Then there are those fat power adapters that can only be plugged in from one angle and naturally that angle makes almost half the power strip useless. Pivot Power, from Quirky has a solution. Pivot Power is a flexible power strip that can help reduce some of that frustration.
Each outlet on the Pivot Power can bend or flex to help find a more convenient angle to plug something in. There is a hinge between every outlet on the strip. This allows more flexibility when choosing how to plug something in, literally. They only swivel in the side to side direction; it would have been nice to see one or two of the outlets bend in the vertical direction also. But as it is, the Pivot Power could probably help simplify the process many of us have to deal with when trying to find a free outlet.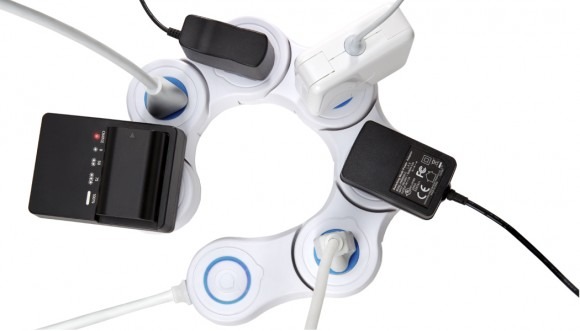 It comes in white with six feet of cord and six flexible outlets. Six outlets is not enough for most of us, so we will have to buy a few. Just don't give in to the temptation to daisy-chain the power strips together in a long line with one plugged in to another. It offers 672 Joules of surge protection, and is available for $29.99. Not the only power strip solution of its kind, but we like the overall design. It looks like it will match Ikea style décor. (That may or may not be a positive for you.)