PITTA modular drone doubles as an action and security camera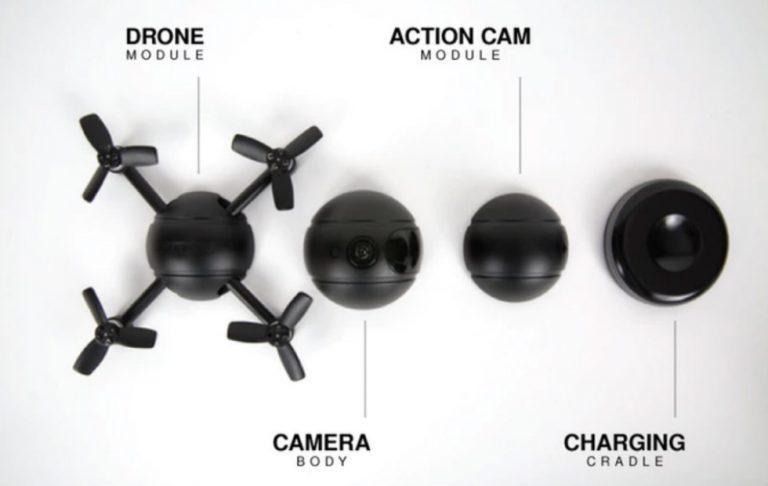 A new Kickstarter campaign seeks funding for PITTA, a sphere-shaped multi-purpose camera device that can function as a drone, action camera, and more. According to the team behind it, PITTA is a "modular transformative drone," one that has mountable and wearable functionality as well as being aerial. That makes it a complete package of sorts, able to meet different needs at different times while maintaining a compact size.
PITTA itself appears slightly smaller than a baseball, measuring 6.7-inches across with a weight of only 7 ounces. Though the device seems primarily to be a drone, its maker also says it can be placed in a cradle to live-stream footage as a home security camera — a use between uses, one could say.
As a drone, PITTA offers a few different modes: Follow Me, Selfie, Orbit Panorama, and "Transform," which is an action camera mode. The modular system involves twisting and locking on rotor hardware for drone usage, then removing it when used as a mounted device.
The drone is said to have intelligent features like hove, terrain awareness, auto-landing and auto-follow, a "come back home" feature, plus GPS. EYEDEA, the company behind PITTA, has raised more than double its $50,000 funding goal with 42 days left in the campaign.
Interested backers can pledge at least $279 USD to get the model's early bird basic kit, which includes the body, cradle, adapter, a gift box, and the user manual. Shipments to those backers are expected to start in May of next year, though as with any crowdfunding campaign, this date could change.
SOURCE: Kickstarter