Piper study: US teen iPhone popularity rises, iPad remains dominant

This this Fall 2013 season the Piper Jaffray analyst known as Gene Munster has released a report that spans several seasons into the past, covering the USA-based teen device wants and ownership in tablets and smartphones. What you'll find here is a collection of results very much centered on the Apple universe – with just the iPhone appearing in the "owns" category for phones – but also depicting an interesting set of trends in competing hardware. This study clearly shows Apple to be dominant in each category, while Android phones rise, Kindle Fire tablets fall, and Blackberry fades away.
While its almost surprising to see BlackBerry in this listing considering it's only got a 2% share just a year ago and a 1% share through Spring and Fall of 2013, the brand does appear to be grasping at that last 1/100th of the market for what teens in the USA expect their next phone to be. This study also shows non-smartphone devices in this category to keep a 4% share while dropping from 7% just a year ago.
This study, by the way, is conducted of a participant pool of 8,643 teens in the United States. Piper Jaffray explains that interviews were conducted with teens from families with "high-income" (household income of above $104,000) as well as average-income (household income of around $54,000) throughout the USA. In other words – these are families that have teens able to afford smart devices in the first place.
In the listing of what teens expected their next phone to be, iPhone reigned supreme, earning a 65% share – rising from a constant 62% share the previous two study periods. Meanwhile Android smartphones appear to be on a steady rise, with a 22% share one year ago, 23% this spring, and 24% of the pie this Fall.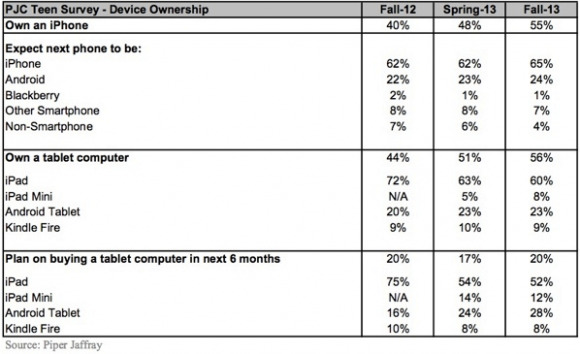 This study's marker for those teens that own an iPhone shows that one year ago, 40% of respondents had an iPhone in their pocket, while here in the Fall, this share jumped to 55% – more than half of the teens questioned. Similar numbers appeared for teens that owned a tablet – any tablet – with 44% saying they owned a tablet computer a year ago and 56% of US-based teens saying they owned a tablet this Fall.
Of these teens owning tablets, 9% said they owned a Kindle Fire – the same percentage of respondents from this same time one year ago. Android tablets appear to be rising slowly or stalling out as 20% of teens owned one a year ago and 23% of teens owned one this Spring and on into the Fall. Considering the iPad mini – one year ago noone owned one of these smaller slates, then 5% this Spring, then 8% this Fall.
The iPad ownership in this study seems to have gone down – for a larger sized iPad ownership was up at a massive 72% one year ago – then down to 63% this Spring, then down to 60% this Fall. If you add in the numbers for the iPad mini (just for fun), you'll find both the Spring and Fall having 68% of respondents owning any kind of iPad.
Finally for those "planning on buying a tablet computer in [the] next 6 months", this USA-based teen study suggests that iPad want may possibly be giving way to Android tablet popularity growth. Seeing this chart should be put into perspective, of course, with just 20% of respondents actually saying they're planning on purchasing a tablet at all – that's just 1,728 teens from a batch of 8,643.
Considering that, you'll find that the iPad (the larger version) is falling in popularity – while a year ago 75% of teens planned on buying an iPad, just 54% said they'd be buying one this Spring, and 52% this Fall. This has a bit to do with the rise of the iPad mini which took 14% of the market this Spring and 12% of the market this Fall.
Meanwhile the Kindle Fire was sitting at 10% for teens thinking they'd be buying a tablet in the next 6 months, then down to 8% for the next two study periods. Android tablets in general have seen a relatively large rise in this amount of time – at just 16% a year ago, 24% this Spring, then 28% this Fall.
We'll see a new iPad event later this month – quite likely on the 22nd of October. We'll also see the results of this event in the next Piper study on teens as well – stick around for the Spring results and we'll keep to tracking!