Pioneer XW-NAS3 and XW-NAS5 Are Bookshelf-Sized Speakers for Your iPhone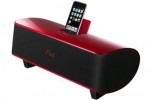 If we said that there was a market for iPhone and iPod products, we know it'd be the understatement of the century. And while there's all sorts of different models out there, sometimes it's better to just get back to the basics, and shell out some speakers that look like, well, speakers. Of course, it doesn't hurt to make them pretty cool, too. Pioneer has gone ahead and outed their new line of bookshelf speakers, which have actually been in Europe for about a week now.
Both of the XW models are single-unit speakers, but Pioneer wanted them to stand out ahead of the crowd, and made sure that 2.1-channel, digitally 60W output was used to the best of its capability. Behind the grill are some stealth displays, and if that's not enough, you don't even need to physically connect your iPhone or iPod Touch, as the speakers will connect via Bluetooth for streaming your music.
The XW-NAS5, which is pictured above, comes in several colors like black and red, and stretches out beyond just playing music from your Apple products. It actually has a radio, and just in case you can't sleep without some kind of sound, can play ambient sounds. The XW-NAS3 is stuck to a white model, and can only play music from an iPhone or iPod product. There's no word on US pricing at this point, but Pioneer is hoping to get these to our shores by the end of the year.
[via Electronista]