Pioneer unveils new wireless DJ system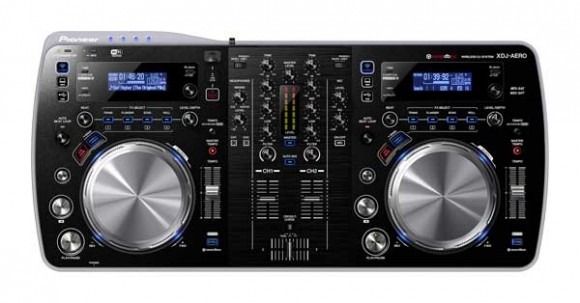 Pioneer has unveiled a new wireless DJ system that lets DJs create music with fewer wires. Pioneer Electronics claims that the XDJ-Aero is the industry's first Wi-Fi DJ system that offers the ability to wirelessly play music tracks from smart devices, including smartphones, tablets, and notebook computers. Using the DJ device the user can mix and arrange music tracks stored on smart devices via Wi-Fi.
The system also supports USB devices and computers using the included DJ software. The XDJ-Aero is also able to create its own wireless access point when Wi-Fi isn't available allowing connectivity with portable devices. That means if you're playing somewhere where there is no external Wi-Fi network, you can still connect to your digital music on your smartphone.
The DJ system can identify up to four separate devices as sources for music playback. The included software is called rekordbox. The DJ system has audio ports for connecting other sources, including pioneer CJ players, and the system can be used as a standalone two-channel mixer. Pioneer includes multiple jog controls, audio effects, and other features into the system.
Features of the XDJ-Aero include a Jog Drum for manipulating samples. Sample Launch has four integrated sounds such as scratch, horn, siren, and laser. The Beat Effect adds four additional sound effects including Trans, Flanger, Echo, and Roll. The final main feature is a Sound Color Filter. The XDJ-Aero will launch this month at an MSRP of $1399.