Pioneer Rayz Rally turns your iPhone into a speakerphone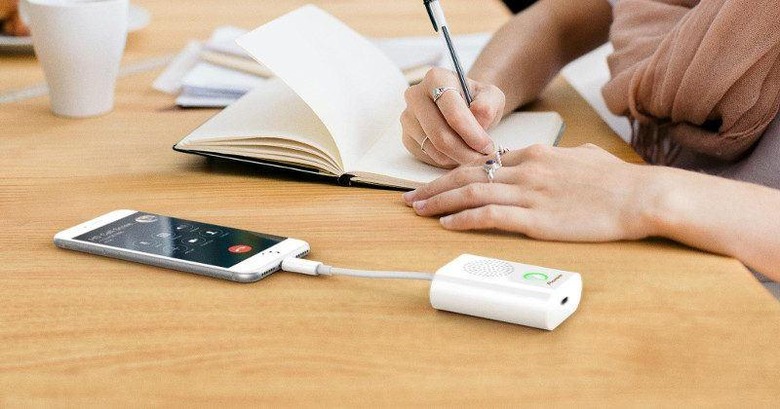 Bluetooth speakers and headsets have become even more popular thanks to Apple ditching the headphone jack on its latest iPhones. Wireless, however, hasn't been the only way to connect audio accessories, even before the iPhone 7. The Lightning port is perhaps one of the understated features of Apple's phones and tablets and Pioneer and ONKYO USA are taking advantage of that to deliver the Rayz Rally, a loudspeaker that you can literally drop into your pocket.
At its core, the Pioneer Rayz Rally is really just a small, portable, wired loudspeaker, not too remotely different from those that plug into 3.5 mm holes. But by utilizing a Lightning connection instead, the Rayz Rally is able to achieve things that those more traditional speakers can't.
For one, the speaker doesn't have any batteries itself. Instead, it draws power from that same Lightning cable. Pioneer promises that, thanks to the LightX technology from Avnera, the power draw is kept to a minimum. But if you're still worried about battery life, you can actually charge your iPhone at the same time, thanks to the Rally's pass-through charging.
The Rayz Rally does double duties of being both a conference speaker and a regular speaker and is loud enough for both use cases. It's also smart enough to distinguish between those two and optimize audio output as needed. The speaker is controlled via an app but it does have one button that can be used to mute/unmute calls or pause/play music. And, yes, it is also smart enough to know which one which.
The Pioneer Rayz Rally costs $99.95 and comes in three colors of Black, White, and Gray. It is compatible not just with the iPhone but also with the iPad and even the iPod Touch. You can even use it on Macs and PCs if you have a Lightning to USB adapter.