Pioneer Music Tap Audio Systems Support AirPlay And More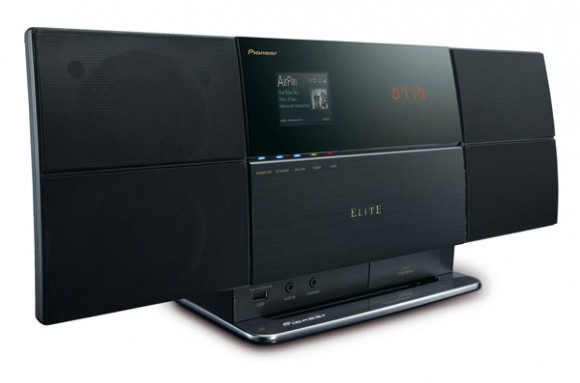 Pioneer has rolled out a bunch of stuff today and among the new offerings is a pair of Music Tap audio systems. One of the players is the X-SMC3-S Music Tap and the other is the Pioneer Elite branded X-SMC4-Elite Music Tap. Both of the players support Airplay and network music playback. The systems connect to home networks wirelessly or via Ethernet connections. Both have integrated WiFi ready for wireless networks right out of the box.
Both of the players also have DLNA 1.5 support, vTuner internet radio, Pioneer AirJam for iOS support, and 2.5-inch color LCDs. The systems can show the album art and song details on the 2.5-inch screen and will show the album art and content on connected TVs or monitors as well. The wireless connection lets the players hook to the user's iTunes catalog and Pandora, iHeartRadio, and more online services.
The iPod docks on both of the Music Tap players pop out for clean looks when not needed. They each have 2-channel digital amps with dual full range drivers and passive radiators. The Elite branded version has audio tuned by TAD director of speaker engineering. The Elite model also has integrated Bluetooth. Both of these systems will ship in October with the standard version at $399 and the Elite at $479.