Pioneer DJM-T1 mixer with Traktor Scratch Duo Software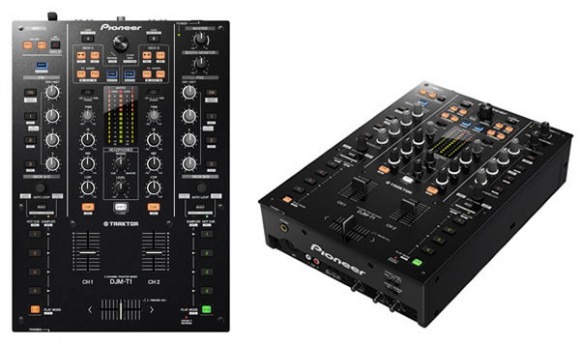 It seems like every time I look up Pioneer is tossing a new DJ this or that onto the market. I had no idea Pioneer was so big in the DJ market until the last year or so with all the new gear it has been offering up. The latest new DJ product is the DJM-T1 mixer that ships with Traktor Scratch Duo 2 software. The mixer is jam packed with some cool features that DJs will really like.
The DJM-T1 is a complete solution with a hybrid mixer, a controller, and an audio interface in one unit. Pioneer designed the new mixer to support and be ready to use the new features of the Traktor Duo 2 software right out of the box. The mixer can be used without a computer if the turntables stop working and the mixer has controls for the six FXs that are included in the software and for crossover adjustments as well.
The mixer supports the Sample Decks feature that allows the DJ to open two scratch decks and load up to four loops or samples in each. The device has a USB soundcard inside and it can be used for scratching with CDJs or turntables. The soundcard will allow the recording of sets to a computer using a cable and the device uses a 24-bit DA converter for clarity. The mixer also has enhanced fader operability and durability. Pricing and availability are unknown at this time.