Pioneer BDP-160 Blu-ray deck packs WiFi Direct for digital converts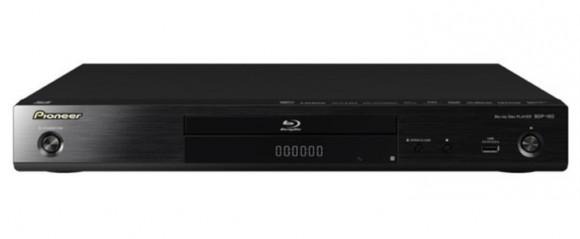 Pioneer has outed its latest Blu-ray deck, the BDP-160, seemingly targeted at those torn between high-res physical media and the convenience of digital downloads. The WiFi-toting player supports not only Full HD Blu-ray playback, but uses WiFi Direct to stream content from a smartphone, tablet, or laptop, including support for YouTube's "Send to TV" function for one-touch big-screen playback.
That will work with the YouTube apps for Android, iPhone, and iPad, though if you're using another media service or a different device, you're not left out in the cold. DLNA 1.5 support brings more generic streaming to the player, including from a media PC or NAS server somewhere on the same network.
There's also native YouTube and Picasa access, while a USB port on the front allows direct connection of a memory stick or external hard-drive. The BDP-160 can handle 3GP, FLV, MPEG, AVI and WMV video formats, as well as FLAC2, WMA, MP3, MKV and DivX + HD.
Meanwhile, Pioneer has two remote apps for Android and iOS, ControlApp and iControlAV20133. The former turns the devices into touchscreen remote-controls, allowing for basic menu navigation and playback to be handled; the latter is more complex, with support for streaming music directly from the device, viewing BDP-160 status information, and more.
It's also possible for up to four devices running iControlAV20133 app to access the Blu-ray player simultaneously, which turns it into a party system of sorts or, if you have other pieces of recent Pioneer A/V kit, a multiroom setup.
Pioneer is yet to confirm US availability and pricing of the BDP-160 Blu-ray player. In the UK, however, it'll land from July priced at £129.99 ($204).