Pioneer AVIC-N4 In-Car Nav and Multimedia System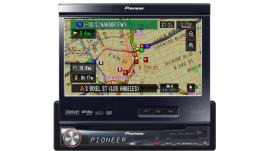 First let's start with the fact that this thing costs $1600 and can't do navigation and music at the same time. Nor does it have any integrated storage, which means for probably the same money or less you could by a better receiver and then get a TomTom.
However this unit does tuck things away nicely with its motorized 7" touchscreen LCD. Just don't ever lose that navigation DVD. Oh yeah, that's another function of the unit, not only can it play DVDs but it can play several other media sources including iPods, compressed audio (which formats?) discs.
Another upside is that you shouldn't have to cut into your dash in order to fit the AVIC-N4 in because it fits in a standard DIN space. You can also add traffic info and Bluetooth technology with add-ons. Like I said, it costs $1600 and should be available soon with SEMA coming up.
Pioneer releases details on the AVIC-N4 in-car system [via crave]