Pioneer Android-powered prototype cycling computer surfaces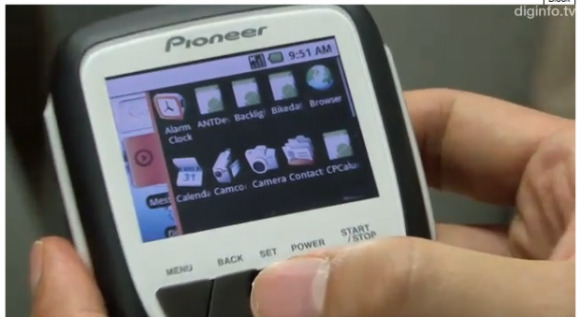 Android has really blown up since its slow initial start. You can find the OS inside hoards of smartphones and tablets today and Android is starting to show up in places you might not expect at all. One of those unexpected places is inside a new prototype cycling computer from Pioneer.
The device is a computer for bicyclists that helps them keep track of vital details while they are riding. The cyclometer can track the users speed, cadence, heart rate, and power. The device in prototype form has a 2.2-inch LCD screen, a trackball for navigation, and a pedal monitor for measuring forces on the crank.
I am surprised the prototype doesn't use a touchscreen, this seems a perfect occasion to use one. Perhaps that is an effort to keep the cost down. The device supports ANT+ and has a microSD card slot and a microUSB port. The battery promises 12 hour so use per charge and the computer itself is under 100g.