Pioneer and XM Introduce Pink inno XM2go Player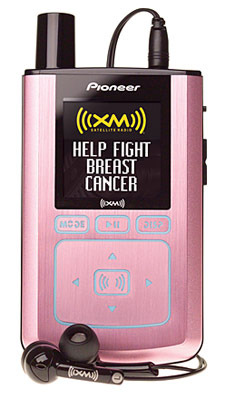 Pioneer and XM Introduce Pink inno XM2go Player With a Portion of Proceeds to Benefit Breast Cancer Research
Pioneer, XM and Circuit City Join Together to Support the Susan G. Komen Breast Cancer Foundation
WASHINGTON, Sept 06, 2006 /PRNewswire-
FirstCall via COMTEX/ — Pioneer Electronics (USA) Inc. and XM Satellite Radio today announced that the Pioneer inno(TM) XM2go, the world's first portable player to combine XM's acclaimed content with the flexibility of MP3 playback, will be available for purchase in pink beginning September 10. For each pink inno sold and activated, a donation will be made to the Susan G. Komen Breast Cancer Foundation.
"XM, Circuit City Stores, Inc. and Pioneer are coming together with the Susan G. Komen Breast Cancer Foundation to deliver this pink Pioneer inno to market with the hope that we can help drive breast cancer awareness, an important issue to many of our existing subscribers and employees," said Dan Murphy, senior vice president, Retail Marketing Distribution for XM Satellite Radio. "Music lovers now have satellite radio and MP3 music in a single, sleek device, as well as the satisfaction of donating to a worthy cause."
The pink Pioneer inno [GEX-INNO-PK], has a suggested retail price of $349.99, and will be available for sale exclusively at Circuit City Stores or online at http://www.circuitcity.com/ and http://www.xmradio.com/ starting September 10, before expanding to additional retailers. Pioneer, XM and Circuit City will make a combined $30 donation to the Komen Foundation for each pink inno sold and activated, up to a maximum of $150,000. In addition, XM Satellite Radio has committed airtime to the Komen Foundation and its executives to educate its subscribers about breast cancer.
For nearly 25 years, the Komen Foundation has been the largest private funder of breast cancer research, as well as outreach programs in 17,000 communities around the world.
"It provides a great sense of hope that Circuit City, Pioneer and XM Satellite Radio have joined to help us work toward a cure for breast cancer," said Cindy Schneible, vice president of Resource Development for the Komen Foundation. "We are proud to have the opportunity to partner with these three recognizable brands in an effort to increase the awareness of our cause and reach to music and entertainment lovers nationwide."
The Pioneer inno XM2go is a revolutionary portable, handheld device that combines the two most popular forms of audio entertainment: satellite radio and MP3 music. This wearable device combines live satellite radio "on the go" and stored XM content with MP3 and WMA audio files. The user can even "bookmark" songs heard on XM broadcasts, connect the device to the PC, and instantly purchase the songs from the XM + Napster online service.
"Pioneer fans have always been the type of individuals with a sense of style. Now we're able to give them a choice with their personal music player: standard platinum or electric pink. It's one more way we're letting them choose their entertainment on their own terms, and we're doing that while supporting a great cause," said Larry Rougas, vice president of marketing and product planning for mobile entertainment at Pioneer Electronics (USA) Inc.
XM offers commercial-free music channels, sports, talk, comedy, children's and entertainment programming. In September, Oprah Winfrey and XM will launch the Oprah & Friends radio channel. XM is also the exclusive satellite radio home for the women's talk channel Take Five, featuring "The Ellen DeGeneres Show," "Good Morning America Radio," "The Tyra Banks Show," "In Style Magazine — Inspire Your Style," "The Judith Warner Show" and "Broadminded."
Other choices on XM include Public Radio icon Bob Edwards, the award- winning children's radio channel XM Kids and Radio Disney.