Pinterest's new feature helps track things you've already tried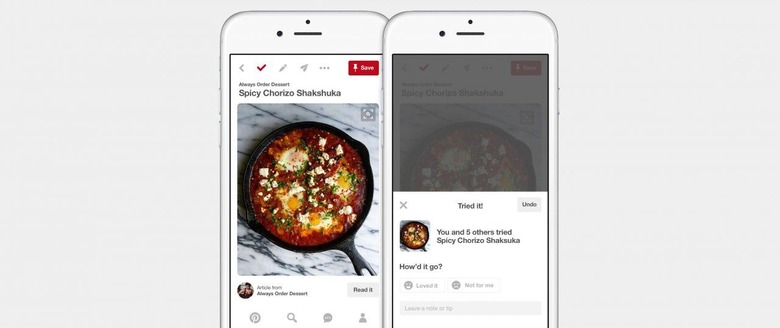 Have trouble remembering which recipes, projects, and other things you've already tried? Pinterest is here to help with its new 'tried it' feature, enabling users to mark pins they've completed as 'tried' for both your and other users' future info. Those who mark something as tried can leave feedback about their results, as well, helping others decide whether the project or recipe is worth their own time and effort.
Pinterest announced the new feature today, saying the 'tried it' designation is demonstrated via the new checkmark in a pin's menu. Tap that checkmark and the pin will be marked as tried and you'll be prompted to leave feedback. Both happy and sad feedback buttons are provided, as well as a small text field for leaving a written note.
Using this new mark also makes it easy to find stuff you've done in the past and would like to give another go. For example, if you mark a recipe you recently made as 'tried,' you'll be able to go into the new pin section in your profile and find the recipe there later. That may not be a huge deal for people who already keep their pins and boards neatly organized, but it does add another element of convenience for everyone else.
Finally, you can view feedback on pins you haven't yet tried by opening the pin — you can see the number of people who have saved it as well as those who have tried it and the numbers of people who gave it a happy face or a frowning face. You can also view any written feedback people have left. The feature is rolling out today and should arrive in your account within the next few weeks.
SOURCE: Pinterest Blog