"Pinch" connects multiple devices to create one display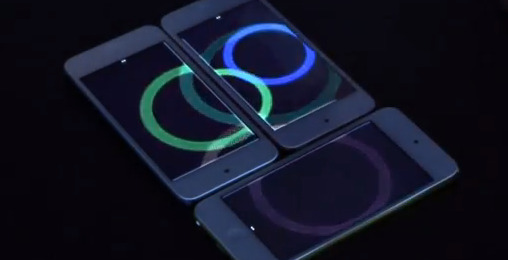 Researchers at the Tokyo University of Technology have developed a unique system in which they can align smartphones and tablets together in any configuration and turn them all into one single display. By simply pinching together screens from two devices, the two screens will start sharing each other and will act as one display, with the ability to add more devices to the mix.
What's impressive about the Pinch system is that devices can be aligned in any configuration and can use any size screen with one another, such as using smartphones and tablets at the same time. The devices link together over WiFi, and by simply pinching together two screens from two separate devices, they'll create one big display.
The video below does a great job at demonstrating how the system works, and while the specifics of what exactly makes the Pinch system work like it does hasn't been disclosed. From the looks of it, each device can detect where it's at amongst the collaborated display, and can also detect where other devices are as well. It's almost like magic, but the pinching itself and where you pinch on the screens is what mostly makes it all happen.
Associate Professor at Tokyo University of Technology Takashi Ohta says that the Pinch interface can be used in a variety of instances, including getting together with friends and possibly using the system to make music and share photos, as well as possibly a little bit of gaming depending on how fast the system is. The research team is offering Pinch to interested developers and says that several are already interested in the idea.
[via DigInfo]