Pictar iPhone camera grip adds shutter release, selfie button, and more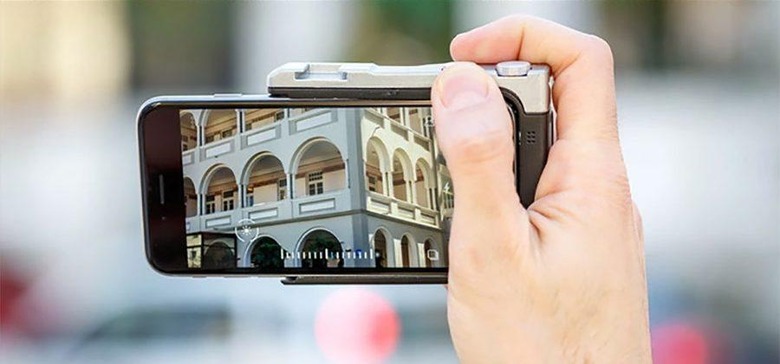 The iPhone certainly changed how people take photos, not because it was the first camera phone, but it was the first successful modern smartphone that took quality images. As time has gone by the iPhone camera has improved to the point where it is one of the most commonly used cameras out there. A new camera grip has debuted that wants to make the iPhone an even better camera and it is called the Pictar.
The Pictar grip is a device that the iPhone slides into leaving the top section with the camera sticking out. The Pictar looks like an old school camera and has on top an exposure compensation wheel, smart wheel, shutter release, and a cold shoe mount. The smartwheel can be programmed for custom settings and handles auto mode, portrait mode, landscape mode, sport mode, snow mode, selfie mode, and video mode by default.
The front section of the Pictar grip has a button that doubles as a zoom ring and a selfie button. The grip is ergonomically designed to make it easier to hold the iPhone and take pictures with one hand. One the bottom is a 1/4" standard tripod attachment and the grip has a wrist strap to prevent you from dropping your iPhone. The Pictar grip ships with a padded case to store it in when you aren't using it.
The Pictar iPhone camera grip is on Kickstarter seeking funding right now. The goal is $100,000 and so far, it has raised over $50,000 with 35 days to go. A pledge of $90 or more gets you a Pictar classic kit with the grip, wrist strap, pouch, and PictarApp. Delivery is estimated for November 2016. A Pictar Premium kit will sell for $120 or more and adds a neck strap and splat flexible tripod.
SOURCE: Kickstarter