Pico Neo standalone VR headset and controllers pack 6DoF tracking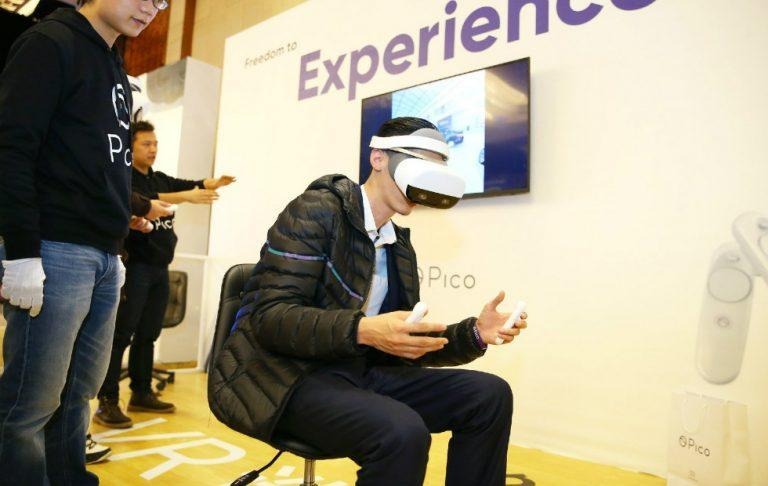 Pico has revealed details on Pico Neo, the company's own standalone virtual reality headset. According to Pico, Neo is the world's first standalone VR headset that boasts 6DoF tracking tech for both the headset and controllers. Among other things, the Pico Neo packs a Qualcomm Snapdragon 835 Mobile VR Platform, 3GB of RAM, and 64GB of storage with the option to expand it by another 256GB.
The Pico Neo, being that it is a standalone model, doesn't have a cable tether to a PC. The key feature here is its six-degrees-of-free tracking abilities, which is the ability to track a variety of movements within a 3D space. This is the latest evolution of Pico's Neo headset, the first iteration of which was unveiled back in Spring 2016.
This time around, the Pico Neo VR headset utilizes the aforementioned Snapdragon 835 VR Platform; it likewise features a 3K-resolution display comprised of a pair of 1440 x 1600 LCD panels. Unlike the HTC Vive Focus, another standalone VR headset with 6DoF, Pico Neo buyers have the option of getting two controllers with the same 6DoF tech rather than 3DoF.
That's a point of interest with a big unanswered question: how well do the 6DoF controllers work? In talking about them, Pico explained:
Once the user powers on the headset, puts it on, and enters Pico UI launcher, the 6DoF function will start to scan the surrounding area and the controllers will be connected. The calibration will be completed after adjusting the position and posture to the correct direction. The user can easily move or dodge attacks in the virtual world, and operate complex game reactions such as bimanual operation.
Pico Neo utilizes HTC's Vive Wave open platform, meaning it will work with content designed for the HTC Vive Focus headset. This version of the Pico Neo is currently up for preorder in China, but unlike the previous version, Pico plans to offer the new Neo in Western markets; further details on that aren't available at this time, however.
SOURCE: PRNewswire