Photoshop Mobile for iPhone hits App Store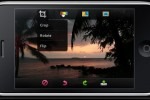 Adobe have released Photoshop Mobile for iPhone, and as you'd expect from the title it offers straightforward on-device image editing for iPhone and iPod touch owners.  As well as basic crop, rotate and flip tools, there's also saturation and tint control, exposure and vibrancy tweaking and various filters and effects.
Those filters range from the straightforward – for instance converting images to black and white – to more unusual special effects like Warm Vintage, Vignette and Pop.  There's also a Sketch tool, which creates a hand-drawn picture from a photo, and a Soft Focus tool which we're assuming makes you look just like Cher in any of her music videos from the past twenty years.
Users also get 2GB of free online album storage at Photoshop.com, which they can access – and upload to – directly from their iPhone.  Photoshop Mobile for iPhone is available through the App Store now, though only in the US and Canada at present, as a free download.
Press Release:
Adobe Unveils Photoshop.com Mobile for iPhone

New Adobe application brings must-have photo tools and eye-catching effects to iPhone users

SAN JOSE, Calif. — Oct. 9, 2009 — Adobe Systems Incorporated (Nasdaq:ADBE) today introduced Photoshop.com Mobile for iPhone™ application, delivering Adobe® industry-leading digital-imaging technology to users on the go. Photoshop.com Mobile provides consumers a convenient way to edit photos, apply effects and share images instantly with friends — all with the flick of a finger. Seamless integration with users' free Photoshop.com accounts enables photo sharing and data back-up, saving them valuable space on their iPhones. The application is available free of charge at Apple's App Store.

"As the digital imaging leader, Adobe is excited to bring Photoshop.com Mobile to iPhone users," said Doug Mack, vice president and general manager of Consumer and Hosted Solutions at Adobe. "Now, with access to powerful editing and sharing tools, iPhone users are armed with the resources to document all of life's unexpected moments, make them look their best and then re-live those memories with friends and family."

Photoshop.com Mobile for iPhone provides a fun, seamless experience to view photos with full-screen previews and edit images with gesture-based editing. Consumers can transform their photos with essential edits like crop, rotate and flip. Users can correct and play with color by adjusting the saturation and tint, enhancing the exposure and vibrancy and converting images to black and white.

Photoshop.com Mobile for iPhone also offers eye-catching special effects. The Sketch tool helps photos look like drawings, and Soft Focus can give photos a subtle blur for artistic effect. With just one click, users can also apply dramatic changes to the look and feel of their photos with effects such as Warm Vintage, Vignette and Pop. Edits or changes can be undone or redone so users can experiment without the worry of losing the original photo.

After making personalized edits, users can upload photos from their iPhone to their Photoshop.com account to view and retrieve their images at a later time from any Internet-connected computer. In addition, Photoshop.com Mobile for iPhone provides the ultimate digital photo wallet, giving users access to their entire Photoshop.com library directly from their iPhone. Photoshop.com offers 2GB of free online photo storage, which equates to over 1,500 photos.

More information on Photoshop.com Mobile for iPhone can be found at: mobile.photoshop.com/iphone.

Adobe Photoshop Family

Adobe Photoshop® CS4 and Photoshop CS4 Extended are at the heart of the Photoshop family, joined by solutions for users at every level who want to bring out the best in their digital images. Photoshop Lightroom® addresses the workflow needs of professional and serious amateur photographers. Photoshop Elements provides exciting tools and sharing options for photo enthusiasts. Lastly, snap shooters can access Photoshop.com for free online photo editing to simply fix and enhance photos and quickly share those images on social-networking sites or through Photoshop.com online galleries.

Pricing and Availability

The Adobe Photoshop.com Mobile for iPhone application is available as a free download from Apple's App Store on iPhone and iPod touch, or at http://itunes.apple.com/WebObjects/MZStore.woa/wa/viewSoftware?id=331975235&mt=8. The application is available in the U.S. and Canada only.