Photoshop finally gets support for Microsoft's Surface Dial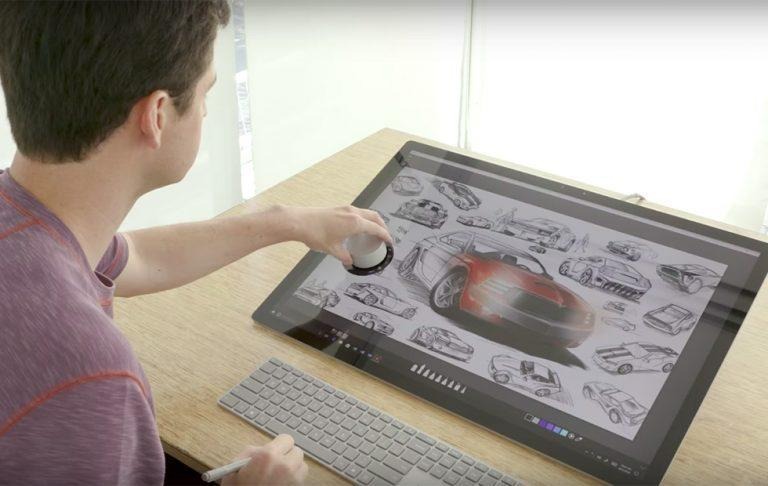 Adobe's venerable photo-editing application, Photoshop, now supports Microsoft's Surface Dial, a literal, physical dial designed for artists. The support has arrived as part of Adobe's major Creative Cloud 2018 overhaul, though users should expect to encounter some bugs here and there as the feature isn't yet production ready.
Microsoft's Surface Dial is an accessory unveiled around the same time as the Surface Studio. The dial looks exactly like a giant dial and it works something like a remote control for software that supports it. The dial is meant to speed up whatever you're working on by making it possible to switch to tools, select colors or similar things by rotating the puck-shaped device.
As one example, rather than using a stylus to open a brush's size menu, then adjusting the size, users could just turn the dial the same way they would on a radio. It's a natural action, a familiar and arguably traditional one, and once you get used to having it around, the device feels like a necessary part of the creation process.
Though the number of high-end editing and designing apps on the market continue to grow, the Surface Dial seems like something that should go alongside Photoshop, and that makes this newly launched support welcomed, the huge delay aside.
According to Adobe's announcement, this feature is arriving in Photoshop as a 'tech preview' that is already turned on. Dial will be available to 'change tool parameters without taking your attention from the canvas.' Having trouble imaging how Surface Dial works? Watch the video below to get an idea:
SOURCE: Adobe Blog