Photojojo iPhone Rangefinder revealed and detailed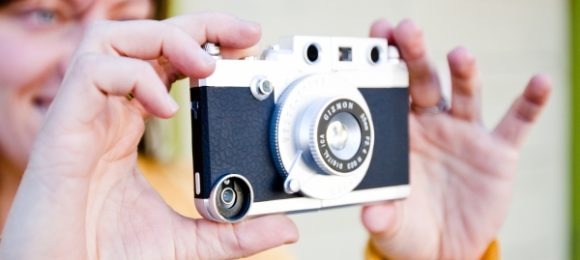 Everybody knows that Photojojo makes the strangest, most interesting, and indeed some of the highest quality oddities a camera enthusiast can buy – and today they've upped the ante for hipsters working with the iPhone. Grab you iPhone 4 or iPhone 4S, slide on the first piece of the cast, pop that into the second bit, and bam, you've got your very own retro-style analog camera that looks and feels relatively similar to the real thing, but with iPhone quality in the mix! You'll be able to tap the shutter button to take a photo, use a real viewfinder, and mount it on a tripod!
And the whole thing is pretty darn customizable. This unit works with Photojojo's collection of Magnetic Cell Lenses which include Fisheye, Wide Angle/Maco, and 2x Telephoto. The tripod mount is removable, the whole setup is lightweight, and there's no blockage of any of your physical buttons or charging dock. The shutter button lines up with your volume up button which, as you know, works as a shutter button on its own in the newer versions of iOS with your camera application too.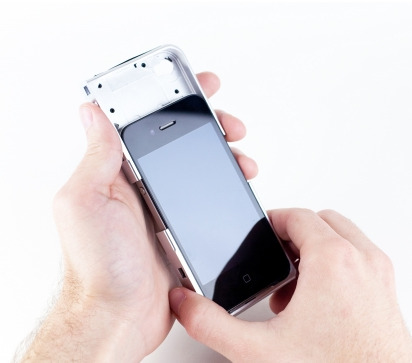 This unit has side loops for a camera strap, the whole thing is very stylish, and that front lens has a function too. Even though you'll still be using your own iPhone lens, (with or without Magnetic Cell Lenses,) you'll be able to utilize that big lens front and center as a self-portrait viewfinder because it's mainly a mirror!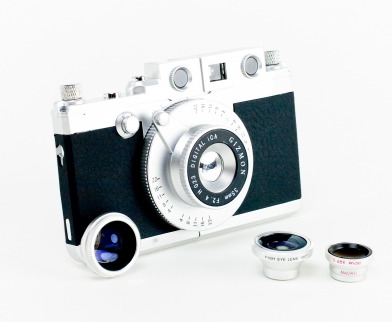 You can pick this unit up starting this week for $65.00 for just the case or $99.00 including all three Magnetic Lenses – fun stuff!