Phosphor release new E Ink watches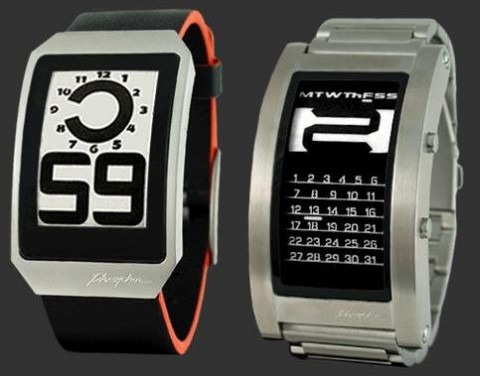 It's been almost 18 months since Phosphor launched their first E Ink watch, and since then the technology has grown in public awareness – thanks in no small part by the Amazon Kindle - to the point where people might actually know what you're talking about when you gesture wildly at your new watch.  Phosphor have returned with two fresh models, the Digital Hour (left) and Calendar (right).
The Phosphor Digital Hour has two different views, one with huge numerals and another with a circular hour dial.  As for the Phosphor Calendar, that manages to pack not only the time but a month's calendar on there too, with day-of-the-week indicator.
Both new watches are available now, with a choice of stainless steel, black leather or black polyurethane straps.  The Digital Hour starts at $175, while the Calendar starts at $185.
[via CrunchGear]