PhoneDrone case puts propellers on your smartphone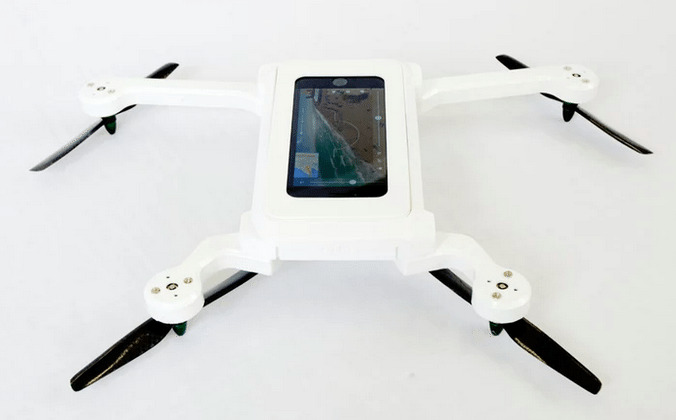 Quadcopters can come in handy at times, but if you're not going to be using them too often, shelling out for a dedicated drone likely isn't in your budget. Enter the PhoneDrone, a compact phone case with propellers that unfold into a functional quadcopter. Rather than including its own hardware, however, the PhoneDrone has a slot in which the operator inserts their own smartphone, which will then serve as the brains of the UAV. Once finished with the drone, the phone be removed and the case can be folded back together.
The PhoneDrone is a compact and relatively inexpensive drone shell in which a smartphone is placed. It weighs about 14.5 ounces and includes WiFi for pairing with mobile devices. The flight time clocks in at up to 25 minutes, and there's a top speed of 35MPH. In the future, the makers plan on adding features like gesture control and obstacle avoidance.
The drone comes with an app that lends control over the phone and operation. With it, the phone can be used to snap pictures from the air, among other things, but in some cases it looks like you're going to need a second mobile device to pair with your phone for video streaming and control. Both iOS and Android phones are supported.
xCraft, the company behind the PhoneDrone, is hoping to raise $250,000 USD on Kickstarter, where it has thus far raised a little over $65,000 USD. There are 35 days remaining; those who want to get a unit can get the "sort of early bird" unit with a pledge of $229 USD. Shipping to those backers is estimated to start in November of this year.
SOURCE: Kickstarter