Phonebook in your pocket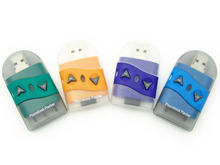 A USB Phonebook made by Brando allows you to easily create a list on contacts on the computer, add them to the electronic phonebook via USB, and then plug the phonebook into the phone using a plug made for the phone. The actual phonebook has two buttons on it, along with a light.
The software that is included in the unit works with Windows 98SE all the way to Windows XP, and no extra driver is needed. Infact, the software is already built into the phonebook so you need not install anything. You can then upload the contacts to your phone in "one touch".
The device is only USB 1.1 compliant, and making it USB 2.0 would speed up the transferring of contacts. The USB Phonebook Flash Drive can be purchased for $20.50 over at Brando's website. You can choose either the Nokia, Sony Ericcson, or Samsung edition.