Philips 6900 series smart TVs kill the bezel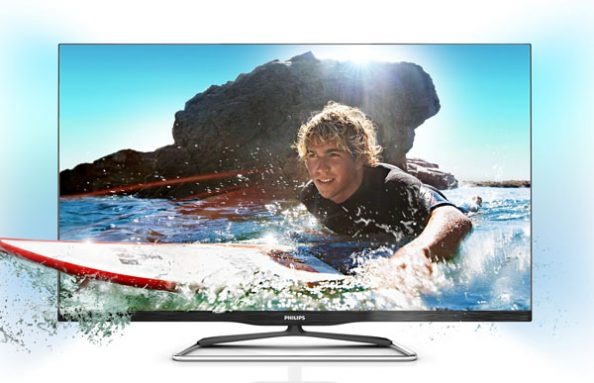 Philips has announced a new line of smart TVs that have no bezel around the edges. The series is called the Philips 6900 series Smart TVs, and they are available in multiple screen sizes. When Philips says it has removed the bezel; there is a slight caveat to the claim.
Philips is specific in saying that the TV does not have a frame around the panel itself, but the screen does show a slim black and active zone when the TV is switched on. The TVs also feature Philips Ambilight technology that shines colored light on the rear wall that matches the light and image on the screen. The idea is to create a more immersive viewing experience.
The 6900 series comes in 42-inch and 47-inch screen sizes. The screens in the TVs are set using a 1.2 mm rim of brushed, anodized aluminum. The 42-inch TV will sell for £1000 with the 47-inch version selling for £1300. Both TVs have the latest Smart TV features, including the ability to access online video, electronic programming guides, apps, and the Internet.
The TVs have DVR functionality when connected to a USB hard drive. Both models also support the Philips MyRemote app for Android and iOS devices allowing those gadgets to work as a remote controls. The 6900 series also supports 3-D content, including 2-D to 3-D conversion, and it supports dual player full-screen gaming when using optional 2-D gaming glasses. Other features include four HDMI inputs, three USB ports, an integrated Wi-Fi.