Philips teases World's first ultra wide 21:9 Cinema LCD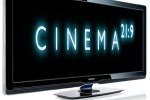 Most of your favorite HDTV programs are broadcasted at 16:9 (1.78:1) aspect, but some cinematic movies are formatted at anamorphic widescreen aspect ratio of 2.35:1. Some projector users are known to have equipped anamorphic widescreen for such standard, then utilizing an anamorphic lens to convert 16:9 materials. Never before, a natively cinema widescreen resolution was featured on a flat screen; until now, Philips has took the initiative to launch the first 21:9 cinema-proportioned LCD TV.
It's an exciting technology but fewer technical details were revealed at the moment. We know it will be a 56-inch viewing screen estate, but it would be interesting to see how the Philips' Ambilight technology handling materials with 16:9 ratio. According to Philips, it will accurately match "on-screen content to extend the picture beyond the confines of the screen".
A teaser web site with little information of the display can be seen here, we'll find out more in the Spring of 2009.