Philips' small smart TV brings Google Assistant to the kitchen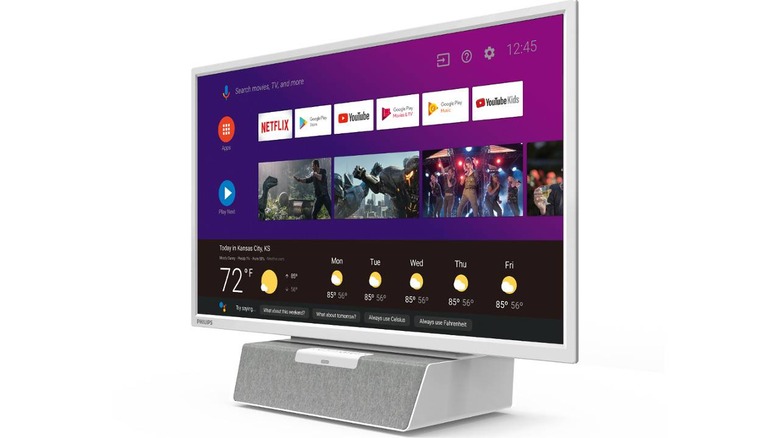 Typically, when a company devotes an announcement to a single TV, it's some kind of cutting-edge behemoth that costs an arm and a leg. That isn't the case with the latest TV from Philips, which clocks in at a mere 24-inches and carries a price tag of $299.99. While that might suggest a rather unexciting TV, Philips would clearly beg to differ.
In its announcement today, Philips says that this TV was "designed specifically for the kitchen." It's equipped with Android TV and Google Assistant, boasting an integrated dual far-field microphone that will allow you to communicate with the AI helper.
Those microphones are built into the rather large speaker that sits at the base of the TV, and though there aren't many precise specifications available for this TV at the moment, Philips did part with some. It says that the TV has an LCD panel that utilizes "HD display technology," which suggests to us that it might a 720p display. It's also outfitted with two HDMI ports, though if it's intended to live in the kitchen, we can't imagine users wanting to connect many devices to it.
Essentially, it seems that Philips is looking to fill a niche with this TV. The company is positioning this as a TV for people who want to use a display hands-free, noting that in the kitchen, this could replace the tablets and smartphones people typically use to follow recipes. Philips also suggests that this could be a good TV for garages or workshops, as it would allow DIYers to follow along with instructional videos in hands-free fashion.
So, there you have it: the latest TV from Philips is not some 65-inch monster but rather a smaller TV meant to fill the gaps, so to speak. The TV is available now in the US and Canada for $299.99.