Philips Pronto Professional TSU9600 Flash Presentation and New Pronto Line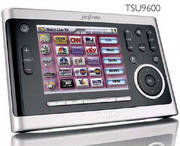 Look at what the cat dragged in! As you'll see in the flash presentation below, there's a stylus that lives behind the right hand side of the TSU9600. Other than that, there isn't much more info other than a really sweet looking presentation. Here's a quick run features of the Pronto: a 3.7-inch VGA (640×480 pixel) touch screen display, PC macro downloads, voice recognition, IR and wireless extenders. Trust me, this one is going to put a dent in your wallet considering the TSU7500 is already priced at $1,199.99!
View the next piece of the puzzle... [via Philips]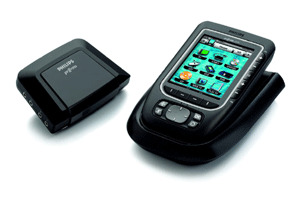 In related news, Philips Electronics Ltd. has announced the Pronto family of customizable remote controls, consisting of the TSU7500, TSU3500, and RFX6500.
The touch-screen TSU7500 features an LCD with 65k colors, and 48 MB of memory. It has backward compatible RF capabilities, and IR learning for its database of codes. The TSU7500 is currently available for an SRP of $1,199.99.
The TSU3500 also features a backlit LED screen, priced at $599.99. It's shipped ships with advanced ProntoEdit software that includes a fully reprogrammed IR dialogue box to set the minimum IR code duration, and an extended gallery for more image selections. Buttons can be linked to each other graphically, and right-click menus have been added. It comes with a charger, docking station, and battery.
The RFX6500 receiver module is compatible with both existing and new Pronto units. It's priced at $249.99. It has an LED that indicates signal interference, enabling installers to place the RF receiver at the best position. It includes a free-positional antenna that can be rotated in all directions. Installers can connect the unit via the single connection cable for both power and IR signals, and increase IR capabilities with the four output ports on the unit itself.
Philips Launches Pronto Line [MarketNews.ca]