Philips PicoPix Max portable Android TV projector casts 120" image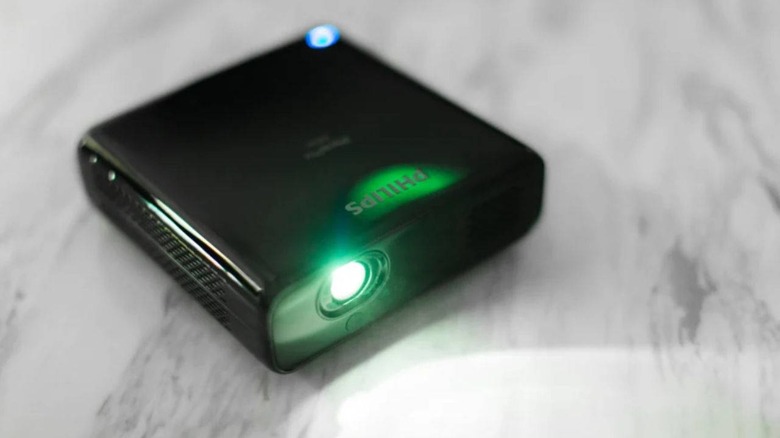 Philips has launched a small projector on crowdfunding website Indiegogo called PicoPix Max. The product boasts a small, highly portable size, enabling users to easily carry it from one location to another without having to deal with convoluted mounts or excessive cables. The pico projector runs Android TV, enabling users to directly download and use a large number of video streaming apps.
Home projectors come in three varieties: the traditional type that is mounted on a wall or ceiling several feet from the projector screen, short-throw projectors that can be placed within inches of the screen, and pico projectors, which are smaller and, generally speaking, usually low-powered with dimmer brightness levels and lesser features.
Pico projectors have grown in popularity thanks to a combination of improved technologies and growing preferences for streaming over pay-TV. The new PicoPix Max capitalizes on that popularity, offering users Android TV in a portable battery-powered form factor. The device casts 1080p video images at up to 120-inches.
The projector features WiFi for streaming content without an Ethernet cable, as well as a built-in trackpad for controlling the content directly from the projector's body. The built-in battery offers up to three hours of runtime, but the device can also be run off a USB-C cable.
The new Philips projector also features Bluetooth, keystone correction, built-in speakers, the ability to stream audio to Bluetooth speakers, HDMI and USB, a microSD card slot, 16GB of internal storage, and 800 ANSI color lumens. Videos can be played in 4:3 and 16:9 aspect ratios and the picture can be projected to an image as small as 30-inches.
Because the projector uses an LED light source rather than a bulb, users can expect around 30,000 hours of run time, equalling years of use before the light needs replaced. The company is offering the unit for pledges of at least $465 USD, but as with any crowdfunded campaign, it is possible the product won't reach the market.