Philips Hue Motion Sensor Review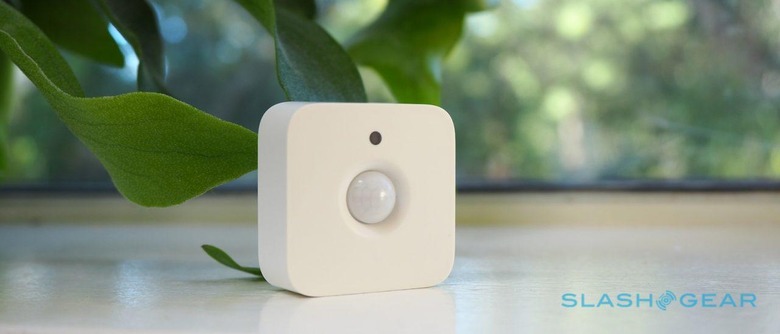 You can control your connected lighting by app, from your smartwatch, by voice, and even by a good old-fashioned button, but Philips' latest addition to Hue only cares when you're around. The Hue Motion Sensor takes a hands-off approach to smart lighting, triggering scenes across any of Philips' bulbs, lamps, or luminaires when you walk past, either for convenience, security, or both.
The hardware itself is a tiny white box with a domed motion sensor on the front. Above it is an ambient light sensor, while below there's a status LED. Two AAA batteries come pre-installed; you'll need a screwdriver to open the back panel in order to replace them, though Philips says they should last for 2-3 years of typical use.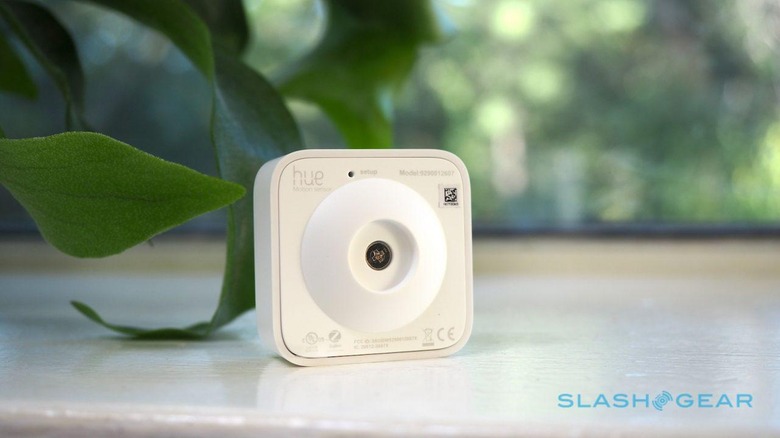 Since it has a flat base you can use the Motion Sensor free-standing, but Philips also includes a small wall mount. That screws into the wall and then the Motion Sensor magnetically attaches; the back is curved, so that you can angle it in different directions. Unfortunately, it's the mount not the sensor which is magnetic, so you can't just stick it to a refrigerator door or some other metal surface.
Installation is via the Hue app, during which you also set which room the sensor is in. Hue lists your pre-existing rooms as options, so if you want the Motion Sensor to trigger a new group of lights, you'll need to set that up beforehand.
Of course, you can later change which room it's assigned to, or indeed have one sensor trigger multiple rooms: Philips caps that at three lighting groups, which the company says is to ensure responsiveness.
The options are surprisingly flexible: more than just "turn on when there's movement" and then shut off the lights after a preset period. You can have different scenes activate during daytime or nighttime – periods which you can adjust yourself – and there's a new "Nightlight" scene of soft, dim light intended to be easier on the eyes when you're stumbling to the bathroom at 2am.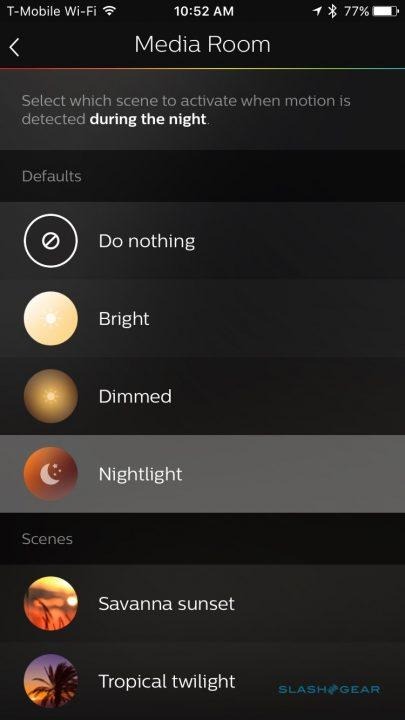 Philips uses the ambient light sensor too: you can set it so the lights won't come on if it's already bright, for instance, and the daylight sensitivity is adjustable. Motion sensitivity is customizable too, with three settings from low, through medium, to high.
On the flip side, you can choose how long the lights stay on after no further motion is detected, from 1 minute to an hour, or have them stay on until manually altered.
Once you've run through the installation, the Motion Sensor is pretty much set-and-forget. I placed it on a shelf where it could monitor the stairs outside my bedroom: the cat loves to sleep there, and would probably find it highly entertaining if I tripped over her in the middle of the night and went tumbling down. Her murderous plans were foiled with a dim, warm light which was enough to check the path ahead for cantankerous, furred predators.
Those who have lived with Hue will be familiar with the small amount of lag as the bulbs react to the app or remote you're using, and I did notice a fractional delay when the Hue Motion Sensor triggered them. The range of the sensor – more than sufficient to spot movement across a broad room or hallway – goes some way to minimizing the impact of that delay, as long as you're considerate about where you place the sensor.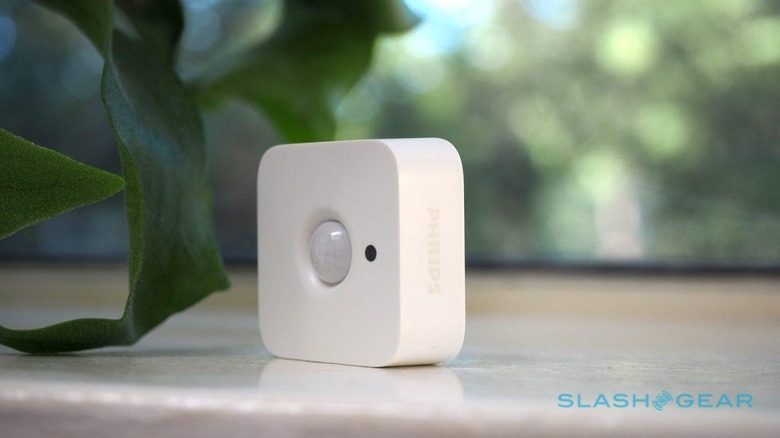 It's been possible to trigger Hue lights by motion before, of course, but only with third-party hardware. I've used a SmartThings motion sensor, for instance, to trigger scenes that include lighting changes when I'm walking through darkened hallways, though that requires a whole separate hub.
NOW READ: Zuli Smartplugs review
The Hue Motion Sensor is unsurprisingly better integrated with Philips' platform, though those with more comprehensive smart home installations might still want to go for a third-party option. That's because there's no way to link the official sensor with other IoT platforms like SmartThings, Nest, or others.
At $39.99, Philips' sensor addresses one of the more common requests from Hue users, and it does so in a way which is flexible and heavily customizable. It's lack of interoperability with other ecosystems might rightly give anyone heavily invested into automation pause for thought, but if your dalliances with the Internet of Things have so far focused on lighting – as is the case for many – the Hue Motion Sensor is a solid way to have the smart home react to you, rather than wait to be told what to do.