Philips Hue 2.0 Review with HomeKit and Siri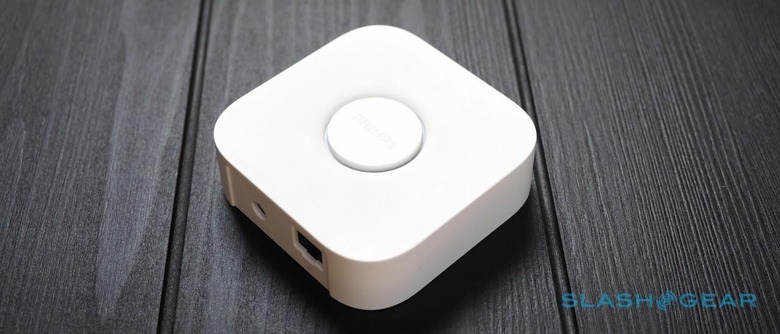 Challengers for the throne of connected lighting have come and gone, but Philips' Hue system remains the best-known of the wireless bulbs. It's color-changing and white lamps are now available for a number of sockets and fittings, but one thing has proved consistent: the central bridge that controls them all.
Now, Philips has Hue Bridge 2.0, square where the original was circular, and a whole lot more intelligent inside. In fact, the company says, the new version is several times more powerful as well as having 500x more space inside.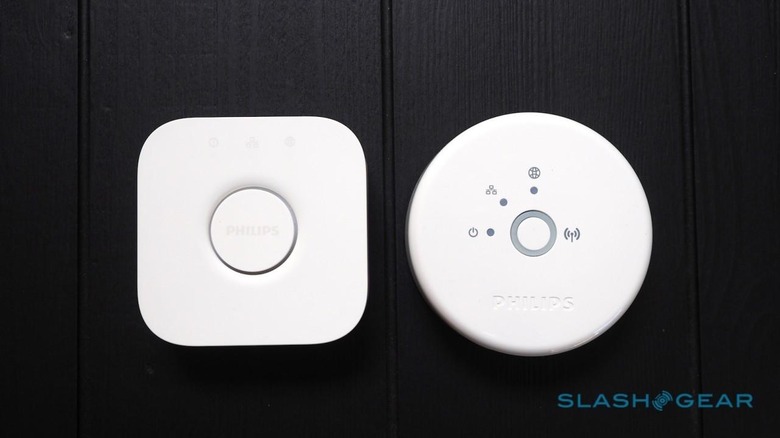 That power means it can do more than just run its own software – now a new, Linux-based OS – but coexist with other automation platforms. Initially that means HomeKit, Apple's smart home system, using Siri to control lighting by voice.
If you're new to Hue, installation is straightforward. All current Hue lighting kits come with the square bridge; you plug it into your router with the supplied ethernet cable, then give it power, and finally load the Hue app on your iOS or Android device. Pressing the button on the top of the bridge allows the app to spot it, and after a few moments the two are paired.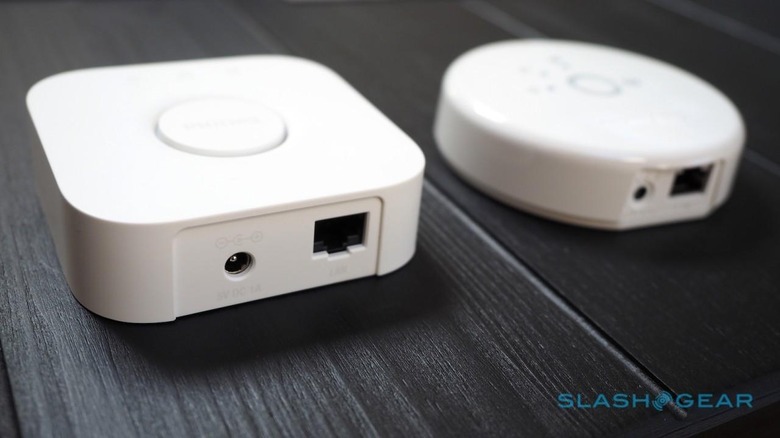 I've been using Hue for some time, however, but my installation was even more streamlined. After plugging the second-generation bridge in alongside, rather than instead of, my original – the new bridge is $60 alone, but existing Hue owners can get it for $40 up until the end of the year – the former spotted the latter and automatically copied across its settings, my previously-programmed bulbs and lights, and any custom scenes I'd created.
From there, you can do exactly what you could with the original bridge. The Hue app allows you to control bulbs individually, to group them into clusters or rooms and command them as a set, and to create scenes of lighting presets. Apple Watch and Android Wear widgets to access a handful of shortcut scenes are available, if you're in the habit of wearing a smartwatch.
If that's all you want, though, you could stick with the circular bridge. This new version is all about playing nicely with other companies.
"Siri, turn on on my lights" is enough to trigger your bulbs, and you can give them brightness instructions too, such as "Siri, dim my lights to 50-percent."
With iOS 9, and Siri voice activation, meanwhile, you don't even have to hold down the home button. Saying "hey Siri," is enough to wake the virtual assistant, with the phone or your iPad sitting on the desk or coffee table.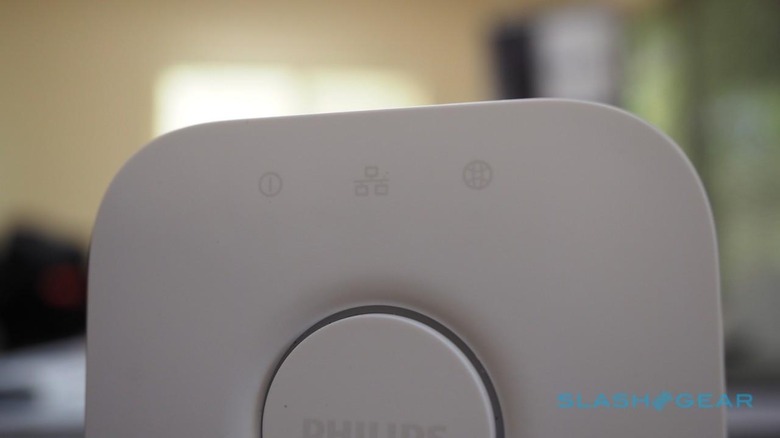 It's worth noting that the Hue Bridge 2.0 isn't a HomeKit bridge, and the Hue app isn't a HomeKit app. It might seem like a minor distinction – being compatible with Apple's smart home platform rather than a HomeKit hub itself – but it means you'll need a third-party app if you want the full support.
With the Hue app alone, you can use Siri to command the lights as a single set, or select one or more scenes that Siri will be able to recognize (each with up to twelve bulbs assigned). You can also pick out individual bulbs to be controlled; each needs to have a unique name, and one which isn't already in use by Siri for an existing voice command.
Siri's success rate proved to be mixed, at least with my default configuration. Most scene and lamp names she'd recognize, but some names she had trouble with until I set them to something else. Should a scene contain bulbs that aren't plugged in at that point, Siri points out that one or more couldn't be activated.
If you actually want to include bulbs in more comprehensive scenes with other connected devices like thermostats or outlets, you'll need a third-party app – I used Elgato's Eve, which is a free download from the App Store – to group a roomful of Hue bulbs and set up scenes that Siri can command.
It's a bit of a chore, but Philips tells me it sees no real point in duplicating functionality other apps already offer – not to mention which is outside of their core expertise. Considering they're instead using their engineers' time to make sure the original, circular bridge keeps getting firmware updates, I'm minded to give them a pass.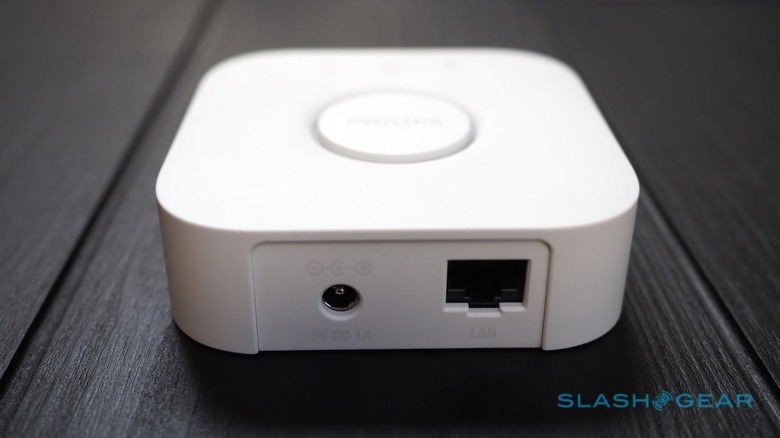 Right now, the Hue Bridge 2.0 is really only of particular interest to those who use HomeKit for some or all of their automation needs. I'm a little disappointed that Philips hasn't increased the bulb limit: you can connect up to 50 to a single bridge, either first or second generation, but no more. While you'd need a pretty complex installation to hit that ceiling, with the extra processing power it seems a no-brainer to raise it in the 2.0 version.
If Philips' roadmap comes to fruition, however, and the hub learns to play nicely with other platforms like Nest's Weave, then it could be a lot more useful. For the moment, as an upgrade only iOS devotees really need pay attention, but there's no denying that speaking to your lights has plenty of Star Trek style appeal.