Philips HMP2000 Review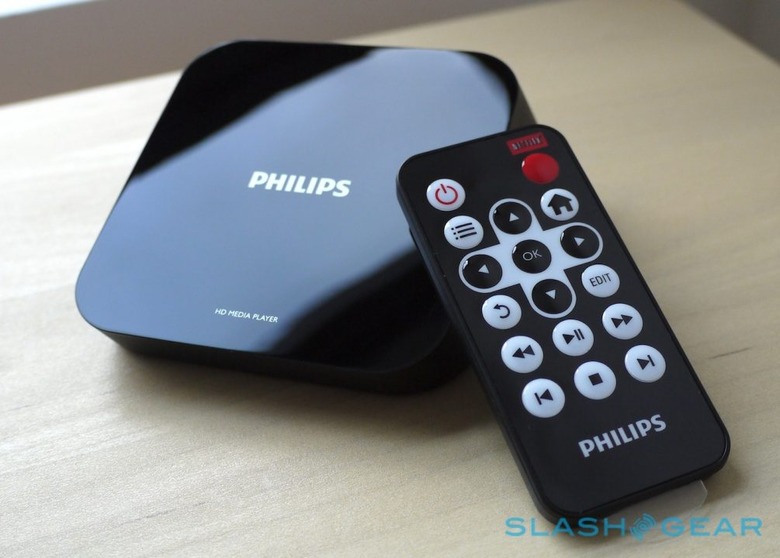 Smart TV is gaining traction, but not everybody wants to upgrade every set in their house just to add native streaming support for Netflix and similar services. Philips believes it has the answer with the HMP2000, a compact Netflix adapter that also promises YouTube, Facebook and local media access for under £50 ($79). Is this the Roku rival we've been waiting for? Check out the full review after the cut.
Hardware
Small and simple, the HMP2000 has roughly the same footprint as the Apple TV but an angled rather than flat top. Connectivity is limited to just an HDMI port, a power input and a full-sized USB 2.0; inside there's WiFi, but you don't get an option for wired ethernet or alternative audio-out routes.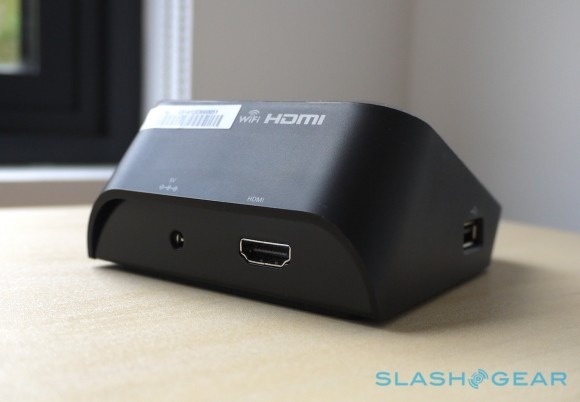 Philips includes a compact remote control with playback keys, a navigation pad and a dedicated Netflix shortcut. It's functional, but the buttons feel cheap and overly clicky. Unfortunately there's no HDMI cable in the box, which comes across as miserly.
Setup and Interface
With so few ports, once you've plugged in the mains and dug out a spare HDMI cable, you're pretty much sorted for physical setup. Power on, and after a brief boot delay you land on the main menu, with options for Netflix, YouTube, USB, Internet Services and Setup. It's possible to play USB media without having a WiFi network connected, but if you choose any of the other options you're prompted to connect.
After punching in our WiFi passcode by navigating around an onscreen keyboard, we were up and running. The HMP2000 can store three different network profiles, useful if you connect to multiple WiFi connections, and once you're online the Netflix and YouTube icons on the homescreen go from monochrome to color. You also get a weather icon up in the top right corner, showing the current forecast.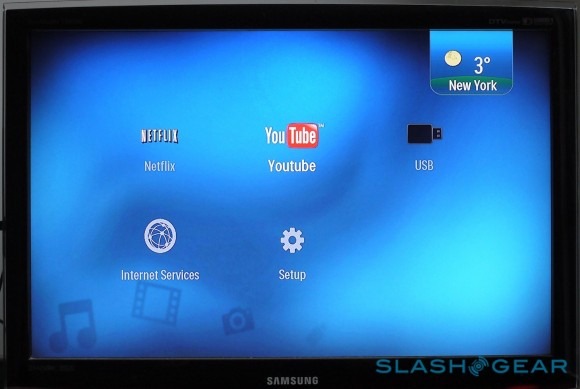 Choose Netflix, and you're prompted to set up a new account or log in with your current one. The UI is the usual multi-lines of side-scrolling thumbnails; there's Facebook integration for suggestions from your friends, along with a list of your recently viewed titles and all Netflix's customary predictions. You can rate shows and search the catalog, though one frustrating UI hiccup is the behavior of the back button, which always wants to throw you right back to the HMP2000's homescreen rather than stepping back a page in Netflix. Luckly there's a pop-up "Are you sure you want to quit" warning first.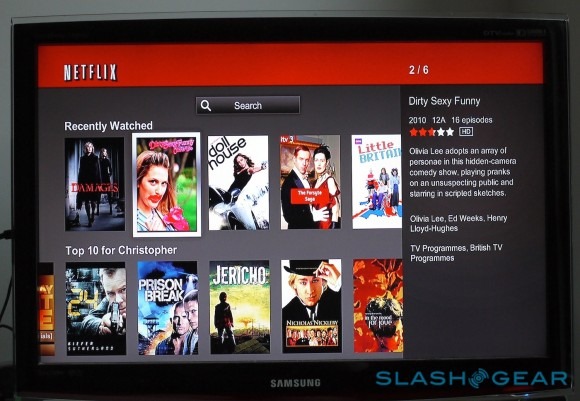 YouTube has a pared-down UI, starting playing instantly from a playlist of current content. Pressing up or down on the arrow keys allows you to search through videos, see other clips in the current playlist, or change categories. It's functional but punching in search terms can get laborious.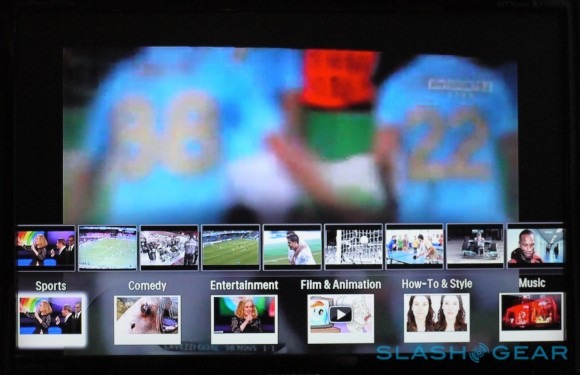 Internet Services is where you find the weather app – if you don't tell it your location, the weather icon on the homescreen assumes you're in San Francisco – for multi-day forecasts, together with Facebook and Picasa access. Facebook support is more akin to a basic phone experience rather than, say, the advanced iPad app, though it's enough in a pinch to see what your friends are saying. Picasa supports searching and browsing through galleries, together with automatic slideshow playback.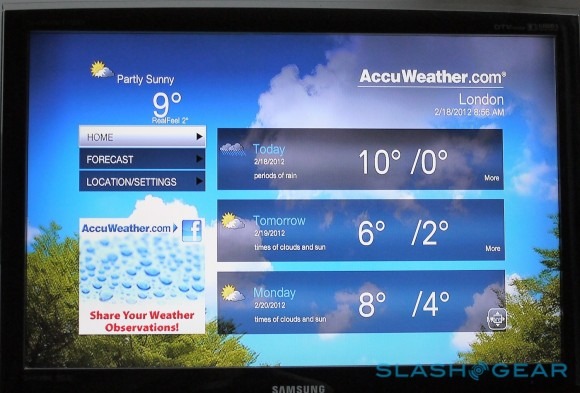 Finally, there's USB media access, plugging in a thumb-drive or external HDD to access content stored on there. Philips' list of supported media types is vast – MPEG 1/2/4 (MPEG 4 Part 2), H.264, VC-1, H.263, VP6 (640 x 480), DivX Plus HD, DivX 3/4/5/6, Xvid, RMVB 8/9/10, RM, WMV (V9), AVI, TS, M2TS, TP, TRP, ISO, VOB, DAT, MP4, MPEG, MPG, MOV(MPEG 4, H.264), ASF, FLV (640 x 480), MKV, M4V – and we had no problem playing a ripped DVD as well as various MPG and AVI clips we'd downloaded. You can also play music and photos stored on external drives.
Performance
Streaming performance will obviously depend largely on the speed of your broadband connection, but we had no problems with lag or audio/video sync when accessing Netflix. YouTube, too, was smooth and judder free.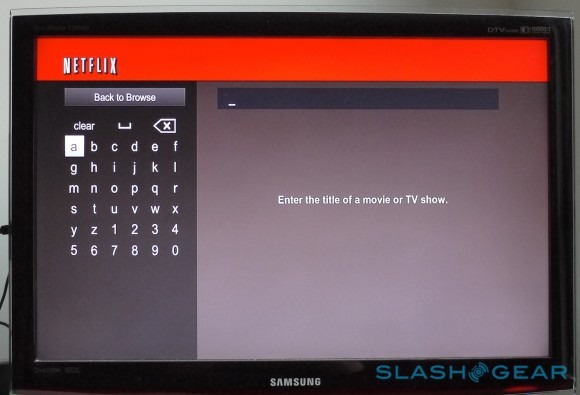 One minor frustration was a moment's delay in playing Netflix content, with the loading screen hanging around for two seconds or so when the show itself had already begun playing. No great issue if you're at the start, when you're unlikely to miss anything but a channel indent, but maybe more annoying if you're resuming playback midway through.
As with other Netflix boxes, you can fast-forward and rewind through shows with thumbnail previews, though there was some lag before those previews actually populated.
Pricing and Value
The HMP2000 is £50 ($79) in the UK, the same price as the Roku LT and Roku 2 XS. Unfortunately, Philips is positioning the HMP2000 pretty much solely as a Netflix streamer: there's no iPlayer or 4oD access, unless those channels' content is available through Netflix itself, and none of the extra channels Roku owners can add to their boxes, such as Crackle UK.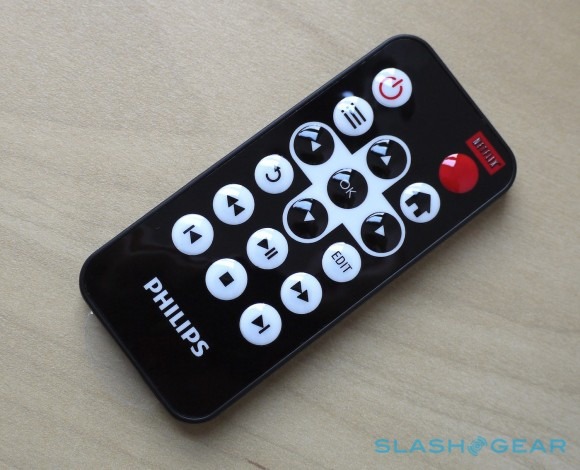 Wrap-Up
There's plenty to like about the Philips HMP2000: setup is straightforward, navigation is user-friendly, and it does what it promises without fuss. The potentially limiting factor is how onboard you are with streaming services, since if you harbor ambitions to use anything other than Netflix and YouTube you're basically out of luck.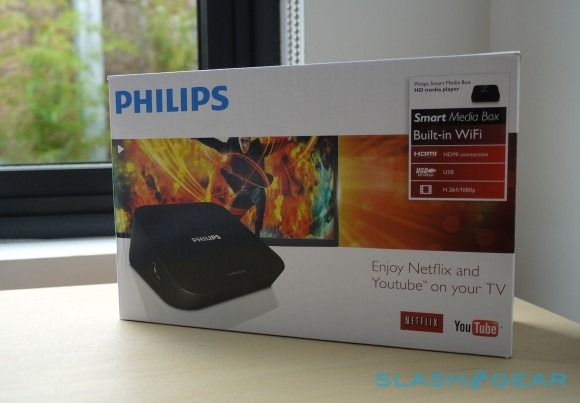 On the flip-side, if you're looking to add Netflix support to an existing catalog of local content, the HMP2000's ability to play HD files from external storage is something Roku's boxes won't do. On that front, the Philips is a success, but we think there's still space for an even cheaper, Netflix-only version that drops the USB.