Philips DS8400 iPhone speaker-dock packs Bluetooth, Lightning & a battery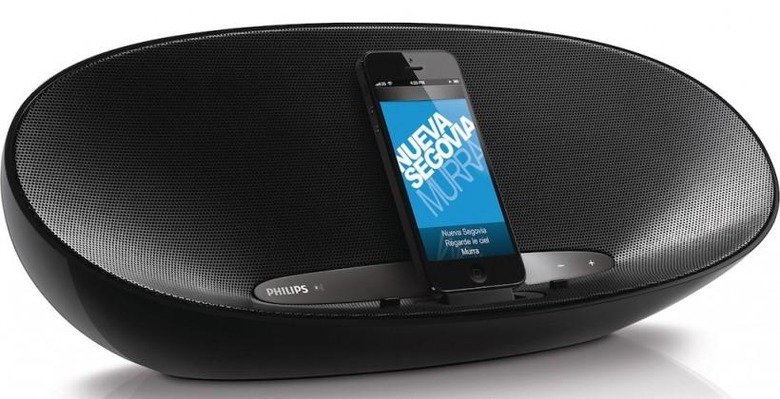 Philips has revealed its latest iPhone speaker dock, the Philips DS8400, offering both Lightning and Bluetooth connectivity for the terminally indecisive. The new dock, which has an internal battery for standalone use, can dock with an iPhone or stream music from any Bluetooth A2DP-compliant phone, PMP, tablet, or other gadget.
Inside the curved casing there are two 3-inch full-range drivers, with each getting its own bass pipe for emphasizing the low-end. Philips also claims that the shape of the speaker-dock – with no squared-off sides either front or back – reduces sound reflections and unwanted vibrations.
On the audio side, the DS8400 sucks a digital audio input from the iPhone, rather than analog, for what Philips says is better overall sound, and the dock works with the SoundStudio app for iOS which includes a graphic equalizer and "MySound" system. There, dragging a finger around an onscreen grid adjusts the sound according to whether listeners prefer it to be "powerful", "warm", "bright", or "clear".
The app also offers internet radio playback, though of course you could also find that through many iPhone (or Bluetooth streaming device) apps. On the back, there's an aux-in connection for wired non-Apple devices.
Battery life is an estimated five hours from a full charge, and Philips includes a mains power dock onto which the DS8400 sits to rejuice. A remote is included.
Philips says the DS8400 iPhone speaker-dock will go on sale this month, priced at £250 ($377). No word on US launch plans at this stage.