Philips Cinema 21:9 Gold HDTV: 3D, two-player full-screen gaming, more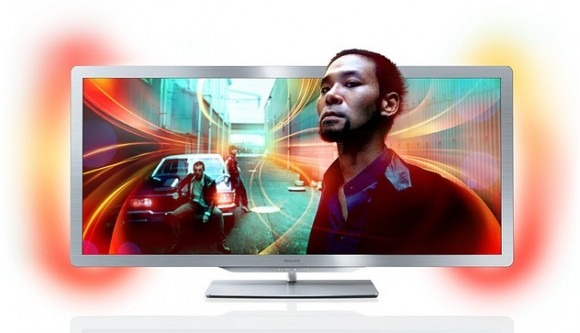 Philips has outed the latest in its ridiculously wide Cinema 21:9 HDTV range, the new Philips Cinema 21:9 Gold Series TV. The first 21:9 aspect 3D capable TV, the new set has a 50-inch panel which uses passive 3D glasses, along with Smart TV functionality and real-time 2D-to-3D conversion. There's also a 3D gaming mode which allows two players to see a full-screen 2D view simultaneously.
The smart TV services will include Facebook and Twitter access, streaming photos, music and video from tablets, smartphones and computers, online movie and TV rentals, and remote control from phone or slate. There's also Multiview, the ability to split the screen in two and show multiple sources simultaneously; for instance, live broadcast TV on one half and internet content on the other.
Full HD, a 100Hz refresh rate, LED backlighting, integrated WiFi and Philips Ambilight Spectra 2 round out the main specs, along with a USB port for hooking up an external drive and recording TV directly to it. No word on pricing at this stage, but none of this will come cheaply.
Press Release:
Philips affirms leadership in Cinema 21:9 category with new Cinema 21:9 Gold series Smart LED TV

Barcelona, Spain – Affirming its leadership in the category of cinema proportion TVs, Philips is making the ultimate cinema experience available to a broader audience by expanding its range with the Cinema 21:9 Gold series Smart LED TV. Following the launch of Cinema 21:9 Platinum Series last year, the world's first cinema proportion 3D TV, the new Cinema 21:9 Gold series TV will make every night a premiere at home.

Presenting movies exactly as the director intended, the new Cinema 21:9 Gold series TV is the ideal wide screen to enjoy a world of film and connectivity. The Cinema 21:9 Gold series uses Philips-pioneered formatting technology to display movies in their authentic format and completely filling its 50-inch screen. Unlike other TVs on the market, the Cinema 21:9 Gold series TV is the ideal companion for movie lovers as it presents movies without those annoying black bars at the top and bottom of the screen. The Cinema 21:9 Gold series is equally accomplished with 16:9 material, including broadcast television, gaming and DVDs, giving you the option to resize the picture to fill the screen without any visible distortion.

Its ultra wide screen is also the ideal format to enjoy a world of connectivity. With a third more screen space than a normal 16:9 TV, the Cinema 21:9 Gold series provides easy access to the internet through Philips Smart TV, so you can comfortably look up the soccer scores or Facebook (available soon) or Twitter with friends whilst you watch a movie or TV program.

Easy 3D

The Cinema 21:9 Gold series makes the 3D home cinema experience widely available to consumers with Easy 3D. The Cinema 21:9 Gold series offers a comfortable 3D viewing experience with sharp images and low crosstalk. Using lightweight passive 3D glasses in combination with the Cinema 21:9 Gold series' advanced 3D polarized screen, Easy 3D brings 3D realism into the home for the whole family to enjoy, and at an attractive price.

2D to 3D

This year, Philips is introducing real-time 2D to 3D conversion across its range of 3D TVs. This means that your entire movie collection – even old black-and-white classics – can seamlessly jump from the screen. Philips uses sophisticated software to deliver the best high-quality conversion available. It ensures that subtitles are shown at a constant depth and that there are no errors such as parts of the background appearing in the foreground. 3D depth adjustment controls also enable you to customize the level of your 3D experience, so you can choose the image depth that suits the on-screen content or your personal preference.

Staying connected

With one of the most comprehensive smart TV packages available, this year's Cinema 21:9 Gold series is a superconnected media portal that hooks you up with online content; stream music, photos and videos from your tablet, smart phone or laptop; and store programs and movies on your hard drive on demand. Built on the four pillars of SimplyShare, Control, Net TV and Program, Philips' Smart TV provides easy access to a rich gallery of online apps. These will connect you to virtual movie rental stores for instant movie-nights, enable you to share your experiences with family and friends via Facebook (available soon) or Twitter, let you control your TV using your smart phone or tablet, and help you manage your content as you see fit.

Multiview

As the first and only brand to introduce multi-window viewing on cinema proportion TVs, Philips' Cinema 21:9 Gold series features Multiview. Taking full advantage of the TV's ultra-wide screen, Multiview allows comfortable viewing of multiple content sources at once so you can watch a TV program and keep up with the latest sports results via Net TV.

Accessible performance

Next to the high performance Cinema 21:9 Platinum series TV launched in 2010, the Cinema 21:9 Gold series is a welcome new addition to the category of cinema proportion performance TVs. Packaged in a 50" Full HD screen in 21:9 aspect ratio, the Cinema 21:9 Gold series includes innovations such as edge Full HD LED, 100Hz and Philips' powerful Pixel Precise HD picture processing engine to produce brilliant, sharp and smooth pictures. Complemented with two-sided Ambilight Spectra 2, Cinema 21:9 Gold series completely immerses you with a truly cinematic viewing experience.

Additional product features

· The Cinema 21:9 Gold series stands out due to the intricate picture quality and fluent movement during even the fastest action scene. With four trillion colors the picture quality is taken to a new level thanks to Pixel Precise HD.

· The latest LED lighting technology gives the Cinema 21:9 Gold series its sleek design, stunning picture quality and one of the lowest power consumptions in the category. With the Full HD LED backlight of the Cinema 21:9 Gold series, you can enjoy low power consumption, high contrast picture performance, ultimate sharpness and deep vibrancy.

· Cinema 21:9 Gold series' 100Hz clear LCD screen with a response time of only 2ms ensures that you always get the sharpest, most vivid and detailed images.

· Movie scenes will appear as the director intended and home movies will no longer judder thanks to the award-winning HD Natural Motion which corrects juddering movements in both broadcast and recorded movie material.

· With Wi-Fi internet built into Cinema 21:9 Gold series access to online services through Philips Net TV, such as premium video stores and on-demand TV shows, is just a push of the button away.

· Cinema 21:9 Gold series offers smart USB recording so if you are unexpectedly interrupted when watching your favorite program, you don't have to miss a thing.

· Providing you with a truly immersive viewing experience, patented Philips Ambilight Spectra 2 technology adds another dimension by projecting a glow of light from the back of the screen onto the surrounding wall. Ambilight automatically adjusts the color and brightness of the light surrounding the TV to match the picture.

Full-screen gaming for two

In 2D mode, the Cinema 21:9 Gold series displays standard dual-player games on a split-screen: player one gets the top half, and player two gets the bottom half. But when you activate this mode with Easy 3D and put on your Philips 3D glasses, each player simultaneously sees his or her view expand to fill the entire TV screen – truly the next level in the home gaming experience.

Matching home theater experience

For an even deeper immersion, the Cinema 21:9 Gold series is perfectly matched with the 7000 series Immersive Sound home theater system and the 7000 series SoundHub. The powerful performance of these home theatre systems lets you experience sound like you would at the cinema and embraces you completely with the unique Philips 360Sound performance.