Philips 4K TVs tap Android TV for CES 2019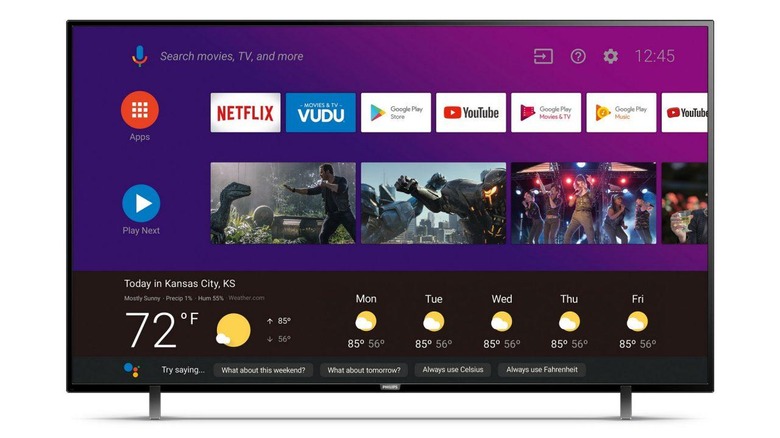 Just a few days before CES 2019 is scheduled to kick off, Funai has announced a new pair of Philips 4K TVs. With these new televisions, Philips will be bringing its Android TV support to the US. That isn't a very surprising move, as the company has offered TVs with built-in Chromecast in the past and supports Android TV in other regions, so this was a logical step.
In its announcement today, Funai and Philips say that there will be two separate series for the new TV, which is officially called the Philips 4K UHD Android TV: 5704 and 5904. Across both series, we'll see screen sizes range from 43 inches all the way up to 75 inches. The TVs will also ship with Android 8.0 Oreo, which of course means users will have access to a variety of streaming services, apps, and games from Google Play.
The presence of Android TV also means support for Google Assistant. Both the 5704 and 5904 ship with a near-field microphone, so you'll be able to talk to Google Assistant through your TV and do all that entails. Finally, we'll see Chromecast support as well, so you'll be able to mirror your phone to your TV without the need for any additional hardware.
These new TVs, which also support HDR 10, will be launching in two waves throughout 2019. Philips that says that TVs in the 5704 series are already available through "select retailers." There are five screen sizes in all: 43, 50, 55, 65, and 75-inch, and they start at $349.99.
We won't see the 5904 series launch until sometime in the second half of the year, but when it arrives, it'll be available in all five of those display sizes listed above. We can probably expect TVs in the 5904 series a little more expensive, as those will ship with a far-field microphone that allows for conversing with Google Assistant at a greater distance. Funai will have these TVs on hand at CES next week, which is where we expect to learn more about them. Stay tuned.