Philips 28-inch 4K monitor goes low-cost, high-def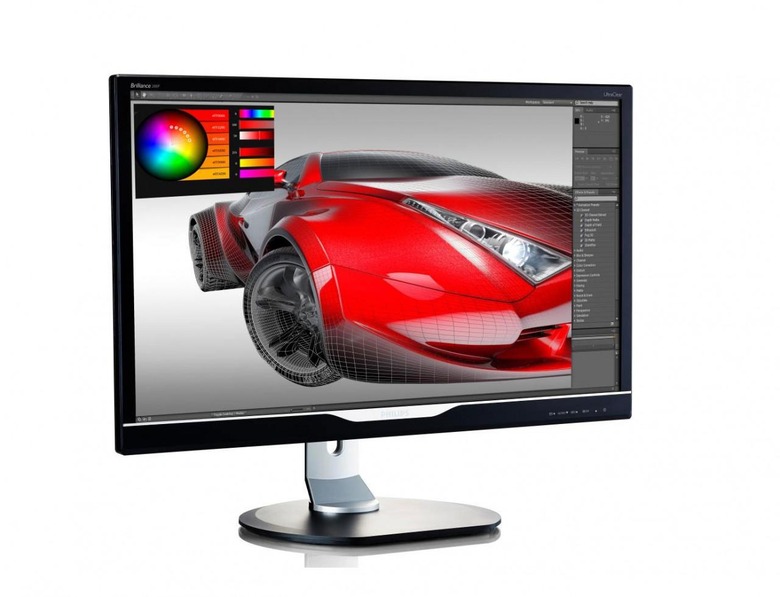 While there are monitors on the market with similar specifications and a similar price, Philips' new UltraClear Display makes a point of aiming to undercut the market. This device will roll out with 4K definition – that's Ultra-HD, four times as sharp as 1080p, all on a 28-inch monitor. That's 3840 x 2160 pixels across 28-inches diagonally, or 157.35 PPI (Pixels Per Inch).
This monitor works with a 1ms response time and 300 nits of brightness. W-LED technology, 10-bit color, and a 16:9 aspect ratio rest within. Connections include VGA (Analog) x1, DVI-D dual-link x1, MHL-HDMI x1, and DP x 1. You'll also have USB 2.0 x2 and USB 3.0 x2 for charging and device connections.
This monitor also has 2x 3W speakers built in. Its power supply is built-in – it's not thin, that is to say – and it comes in black for $599 right this minute.
UPDATE: Foolish edit – price added!
This display is a relatively good deal. You'll find lesser-name brands selling products like the Seiki SE39UY04 39-inch 4K monitor for $339.00 USD – certainly a good deal if you're not concerned about brand. Meanwhile ASUS has a 31.5-inch 4K monitor (PQ321Q) for $2,250.96 USD. What's the difference? Brand and support – plus a few minor details.
You could also compare this display to the Apple-carried Sharp 32-inch PN-K321 4K Ultra HD LED monitor. That monitor costs a cool $3,595 USD.
If you want to compare this monitor to another at the same resolution and display size, there's the ASUS PB287Q 28-inch 4K monitor for $649. That's LED backlit, just like Philips, and 3840 x 2160 @ 60hz as well.