Peugeot's Quartz is our post-apocalyptic monster truck of choice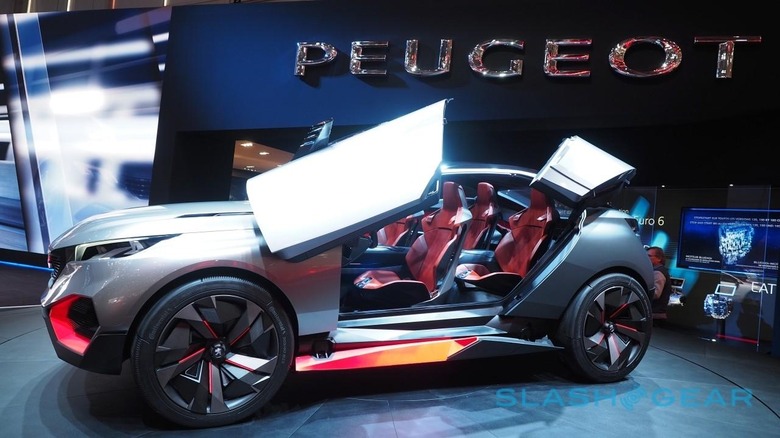 It's not often you see a car and instantly start looking round for Tina Turner to strut out in complete Mad Max get-up, but if there was ever a concept to get the big-voiced singer back into a leather corset, Peugeot's Quartz is it. The French car company brought the Quartz SUV along to Geneva this week to show off its interpretation of what a luxury AWD beast might look like if you didn't mind terrifying everybody else on the road. But don't let the fearsome looks fool you entirely: Quartz is a hybrid.
To be fair, it's actually a 500 HP plug-in hybrid, pairing a four-cylinder 1.6-liter THP 270 gas engine with the twin-motor electric powertrain.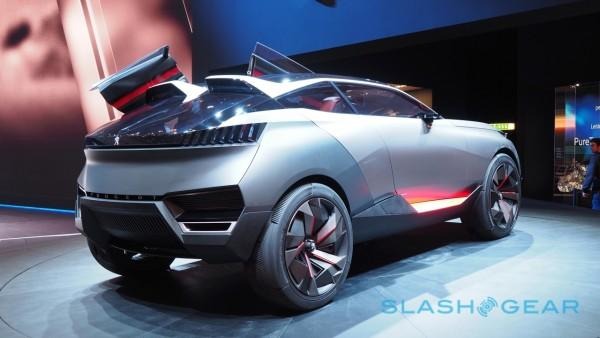 That power gets funneled down to the SUV's distinctive – and vast – 23-inch wheels. They have composite flaps mounted on the alloys which, like the flaps on a plane's wing, control air resistance and brake cooling.
Quartz uses a six-speed automatic transmission, and an 85 kW electric motor on both the front and the rear axle. Similarly, braking control can be adjusted for each wheel independently, for maximum stability when you're trying to outrun someone in the Thunderdome.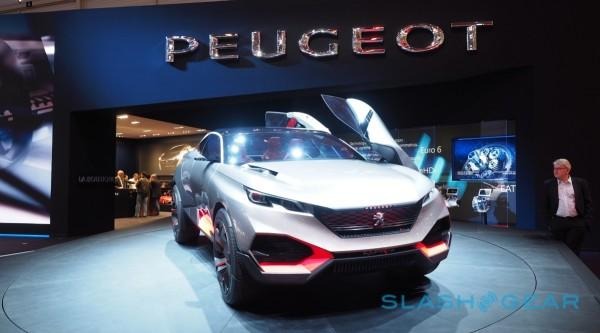 The front McPherson struts are custom-made for the SUV, joined with a multi-arm system at the rear, while pneumatic suspension relies on cameras and a navigation computer that track the road surface ahead and then raise and lower the car to ensure it won't get snagged on obstacles.
Peugeot envisages three driving modes for Quartz. In zero-emission, or ZEV, mode, there's up to 31 miles of pure-electric driving range; Road mode kicks in the gas engine, it working with the front electric motor for longer journeys.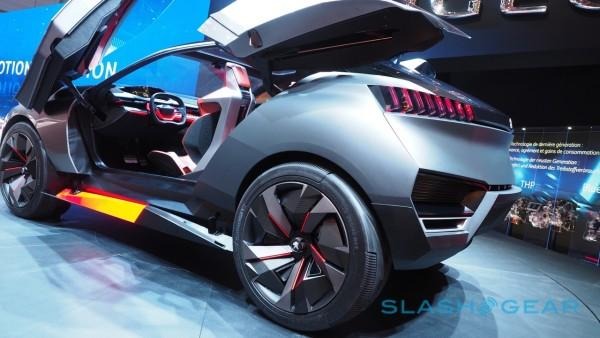 Finally, Race mode splits the torque between the wheels based on their grip in real-time, taking advantage of the SUV's limited-slip differentials.
Inside, meanwhile, you clamber into some exceedingly structural seats via a flap-down step, and find digitally-woven polyester fiber textile along with two tones of leather. The polyester – used for the first time in automotive – can be woven into complex shapes straight off the loom, meaning no waste trimmings.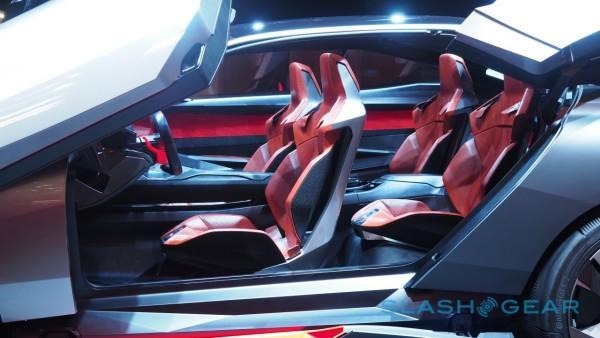 It's also made from recycled plastic bottles, further bolstering Quartz's eco-credentials, and since it can be produced in various thicknesses, Peugeot didn't need to add a separate layer of bolstering foam.
As for the dashboard, Ms Turner gets a head-up display, further information projected onto a polycarbonate strip running across the driver's binnacle, and toggle switches that, when triggered, send flashes of red light down fiber optic cables.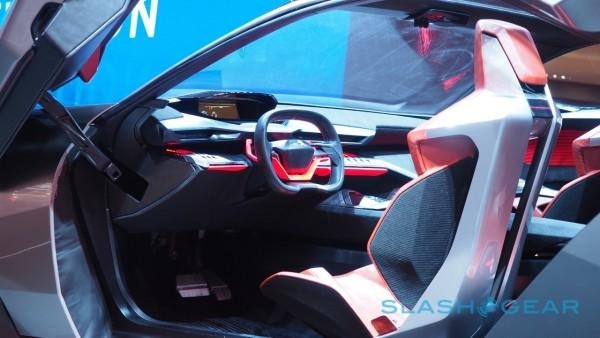 Unfortunately, Peugeot has no plans to green-light Quartz production, and even if it did it's unlikely the car would ever make it to North America.
Still, it's likely that we'll see digital weaving techniques begin to be used in cars as manufacturers look to trim down on waste and complexity for components like seat covers.