Petcube Bites and Petcube Play let you monitor and play with pets from afar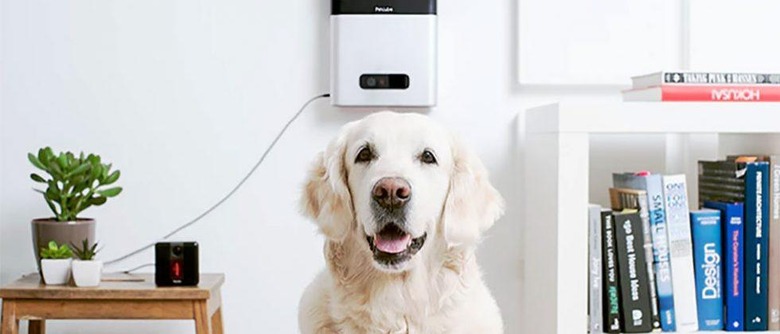 Pet owners who are forced to leave their furry pals at home alone all day might want a way to keep an eye on them so they know that their pet is ok and happy. A pair of devices that let you keep watch on your pet remotely have hit Kickstarter called the Petcube Bites and Petcube Play. The standard Petcube Play is a camera that allwos you to play with your pet from afar. Users can play with pets by dragging or taping a finger on the Petcube app running on your smartphone.
With that app, wherever you touch the screen a laser dot will appear in your home. The Play also allows you to talk to your pet form anywhere. The cooler of the two products is the Petcube Bites. This is a larger camera system that works with the app on your smartphone.
By taping a finger on the app, the bites device will fling treats for your pet to chase and eat. The idea is to allow you to remotely play with and train your pet when you can't be home. Both devices have an integrated 1080p HD camera and 4x digital zoom. The camera works in low and no-light conditions thanks to a night vision feature. The 2-way audio allows you to hear your pet's barks and purrs just as if you were home.
Using the app, you can also schedule treats to be given and record messages to be played to your pet. An option also allows you to dispense treats when triggered by motion or sound. Images can be taken when the pet is in front of the camera and shared with you so you can see when the pet is demanding a treat. The project is on Kickstarter now seeking $200,000 and has raised over $74,000 as of writing with 43 days to go. The Petcube Play sells for $119 or more with November 2016 shipping, the Petcube Bites sells for $149 with January 2017 shipping.
SOURCE: Kickstarter