Personal Hotspots Coming from AT&T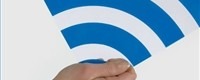 AT&T has confirmed that it will begin supporting the Personal Hotspot feature with the launch of iOS 4.3 on March 11. Users who have the $25 a month DataPro plan which allows for 2 GB of usage, plus the $20 a month tethering add-on will get the update automatically when the update pushes out on the 11th. Users with earlier versions of the iPhone will not be able to use the feature. Verizon's iPhone shipped with the feature, so AT&T has been quick to offer it as well.
Verizon's plan is priced similarly, but it offers unlimited data on-device and users can't use more than 2GB while they are in hotspot or tethered mode without getting an overage. AT&T's plan offers 4GB. Still, these carriers are lagging behind most international providers who are offering better deals. Canadians are getting free hotspot creation on plans that include tethering, at no extra charge.
[via Electronista]