Periscope Lighted Folio is great Kindle companion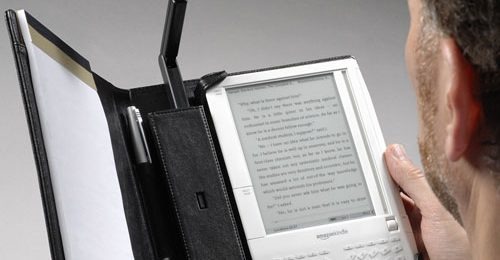 If you've heeded Oprah's call and got yourself an Amazon Kindle, or you've had one for quite some time, then you'll be pleased to know about the Periscope Lighted Folio. This accessory makes it so you can keep your Kindle lit up, even when trying to get through a few chapters in the dark.
One of the most common misconceptions about the Amazon Kindle is that it is backlit. In fact, it's not backlit at all because it uses an E-Ink display. This makes it much easier on the eyes, but it also makes it impossible to read in the dark.
The Periscope Lighted Folio is a new accessory that features a twin LED light that can be retracted into the folio when not in use. The folio is 5-inches by 8-inches and will fit the Kindle perfectly. There is also a pen pocket. The device comes with 3 AA batteries and you can get an optional AC adapter as well. Covered in black leatherette, the Folio sells for $49.95 and is available now.