PepsiCo snackbots deploy to bring snacks to college students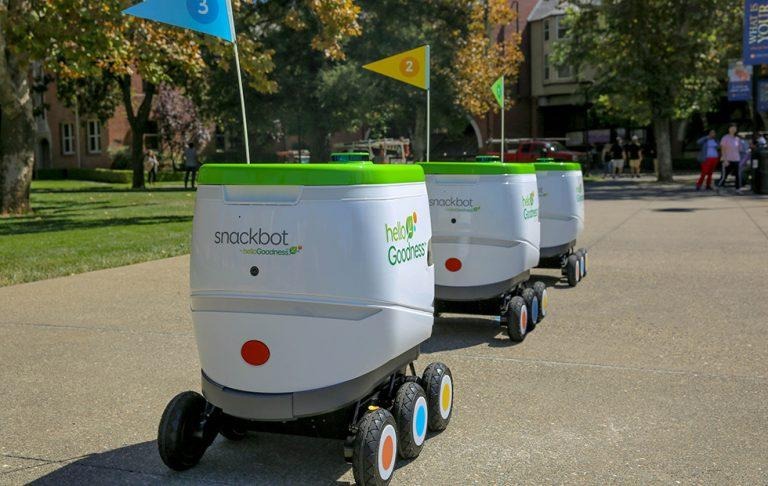 PepsiCo has introduced snackbot, a robot that will deliver snacks to college students. This autonomous outdoor vehicle looks like a large cooler on a set of six wheels, each featuring a flag with a number that makes it possible to tell the snackbots apart. The robots will be dedicated to delivering Hello Goodness' portfolio of snacks and drinks targeted at students who don't want to make a trip to the store.
Snackbot is the result of a collaboration with Robby Technologies, according to PepsiCo, which says the snackbots are now operating on the University of the Pacific in Stockton campus, where they deliver certain curated drinks and snacks. As expected, the products available for delivery will be from the PepsiCo catalog.
The snackbot is an expansion of PepsiCo's Hello Goodness vending platform, building upon that as part of a bigger plan to bring "curated convenience" in other formats. The idea, according to the company, is that college students are often filling the meal void in between classes or in instances where the campus doesn't offer three meals per day.
Delivered goods on campus would enable students to get the items where they're located rather than taking a quick trip to a campus store or nearby shop. Items offered through the snackbots include brands like Pure Leaf Tea, Baked chips, SunChips, Smartfood Delight, and Starbucks Cold Brew.
The system works with a mobile app, which students use to order their food and drinks between the hours of 9AM and 5PM. The items are loaded into the robots, which deliver them to one of 50 different designated areas on the 175-acre campus. Students then retrieve the items directly from the bot.