Pentax Unveils Five DA Lenses

Competing in the cutthroat Digital SLR market if you don't have lens selection with the size of Amazon's tropical forest like Nikon or Canon. Having the state of art body isn't going to sell unless you have full line-up of lens from amateur to professional market. Pentax brought us their newly K20D body yesterday together with 5 new smc PENTAX-DA Lens ranges from a prime Tele to wide angle, I say that's quite an announcement from them!
The first two fast primes are both mid-range 200mm and 300mm, it's also the only two in new series to get smc PENTAX-DA* , pronounced (star). It's Pentax's trademark of high performance Digital SLR lens with Special optical glass including ED glass elements, aspherical lens elements with premium lens coating to capture image with improved contrast, sharpness and detail.
The smc PENTAX-DA* 300 mm F4ED [IF] SDM has an aperture range of F4 to F32, with 8 elements in 6 groups design. It's weather sealed, features Supersonic Motor, Quick-Shirt Focus, Super Protect Coating and comes with a detachable tripod mount. The 1070g telephoto lens has filter size of 77mm and will be released around May with MSRP price of $1,299
The smc PENTAX-DA* 200 mm F2.8ED [IF] SDM prime is one stop faster than the 300mm with aperture range from F2.8 to F22. It has 9 elements in 8 groups construction with similar advance features like the 300mm. Its weights at 825g with filter size of 77mm and will be released around March with MSRP price of $1,099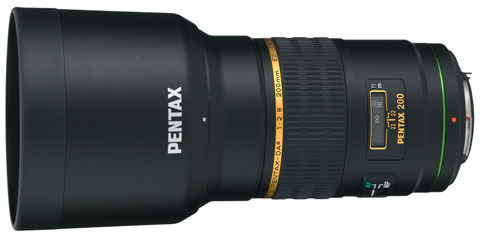 The last prime is a wide angle macro lens, smc PENTAX-DA35 mm F2.8-F22 Macro. It features a quick-shift focus system and super coating with 9 elements in 8 groups design. The light weight macro is barely scale at 215g with 49mm filter size. It will be released around April for $599.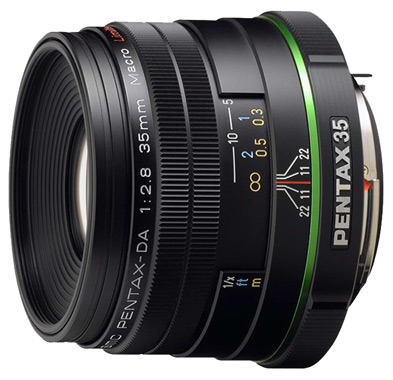 Last two releases are both zoom lens with range from 18-55mm to 55-300mm. The smc PENTAX-DA 18-55 mm F3.5-5.6AL II shares a few similar features like smc PENTAX-DA 55-300 mm F4-5.8ED . The wider zoom will be included in a kit with Pentax's new K200D SLR camera while the mid-to-tele zoom will be available in May for $400.