Pentax shows off Optio WG-2 and Optio WG-2 GPS cameras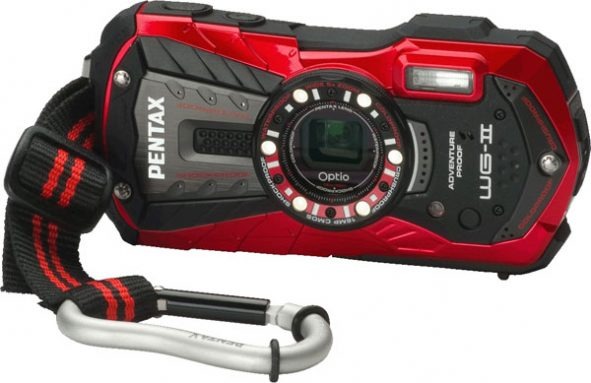 Pentax has pulled the covers off another new digital camera today that comes in two versions called the Optio WG-2 and the WG-2 GPS. Both of these cameras are billed as Adventure Proof and are made for people to spend time outdoors hiking or doing other action sports. Both of the cameras are waterproof 40 feet, dustproof, cold proof, crushproof, and shock resistant.
The cameras record 1080p HD resolution video and use a 16-megapixel image sensor. Around the lens is an array of six LED lights to allow for extreme macro photography. Pentax will be unveiling a SportMount Chest Harness for hands-free use of the camera later this spring. The camera can focus on subjects as close as 1 cm from the lens and the GPS version has a new GPS module with a quicker startup and increased battery life with GPS active.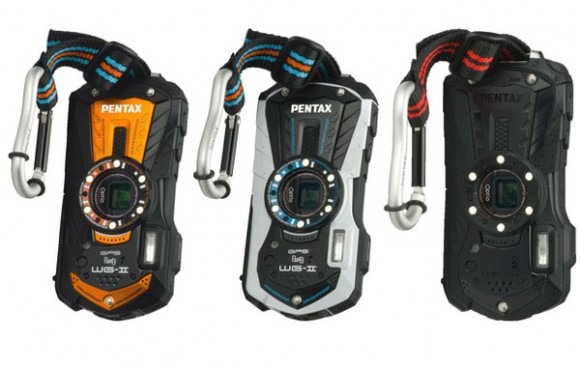 The camera can survive drops from 5 feet onto hard surfaces and can withstand 220 pounds of force without crushing. The lens is a five times internal optical zoom unit and the rear LCD is 3 inches with 460,000 dot resolution. The LCD also has an antireflective coating. Other features include an HDMI output, shake reduction system, face detection, smile capture and blink detection, night snap mode, autofocus assist, and more. The WG-2 is priced at $349.95 with the GPS version selling for $399.95. The chest harness will sell for $49.95 when it launches.