Pentax Optio RS1000 and Optio RZ10 digicams revealed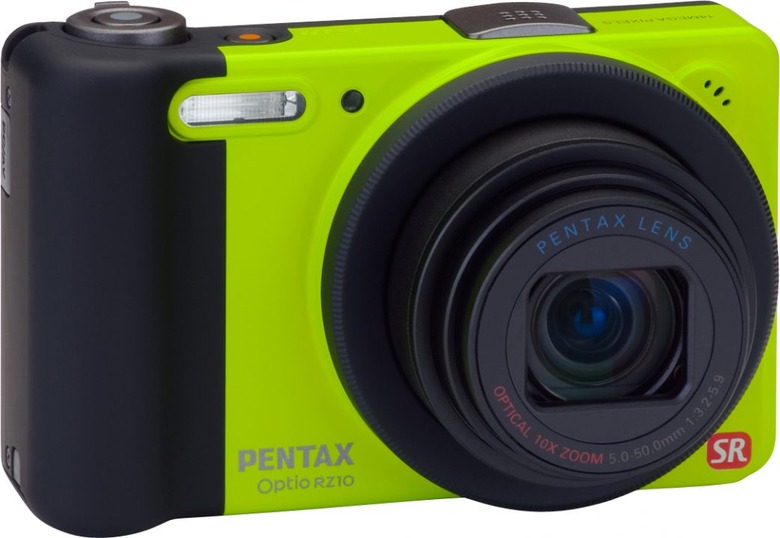 Pentax's other new cameras of the day are the point-and-shoot Optio RS1000 and Optio RZ10, the former offering gobfuls of customization thanks to eleven included 3M adhesive vinyl skins (and an app to help you create more) along with its 14-megapixel sensor and 4x optical zoom, while the RZ10 packs 14-megapixels as well but scales up to a 10x optical zoom.  Both are capable of recording 720p HD video.
The Pentax Optio RS100 has a 3-inch preview display, automatic selection between fifteen picture modes, and automatic face detection and AF tracking.  There's also smile shutter release and digital shake reduction.  It will ship in October 2010 for $149.95.
As for the Pentax Optio RZ10, that has a 2.7-inch LCD display, face-detection AF and AE, 9.1 fps burst shooting and a dedicated pet mode.  It also uses optical image stabilization and can shoot 1cm macro pictures.  It'll also arrive next month, priced at $219.95.
Press Release:
PENTAX ANNOUNCES THE INFINITELY CUSTOMIZABLE OPTIO RS1000 AND OPTIO RZ10 WITH 10X ZOOM

Golden, CO. (September 8, 2010)...Focused on the premise that photography is an extremely personal choice, PENTAX Imaging Company has announced two unique compact cameras that allow owners to be themselves.

The new PENTAX Optio RS1000 is easy to use and may be dressed to match the personality and style of its owner. This cosmetically customizable digital camera features a removable faceplate to hold interchangeable skins of any personal design.

The design possibilities for the RS1000 are infinite. Owners may skin this newest Optio to match a mood, an event, a milestone, an outfit, and so much more. There are four ways to get started personalizing the PENTAX Optio RS1000:

1) Immediately dress the camera in a choice of 11 (three plus eight) standard skins that ship with the product.

2) Use the included SKINIT® gift card to design and order a free, high quality, pre-cut, 3M™ vinyl skin from www.skinit.com.

3) Use an included stencil to trace cutout lines onto printed photos, wrapping papers, drawings, and more to use as a skin.

4) Download the PENTAX PERSONAL SKIN DESIGNER Adobe Air-based software from www.pentaximaging.com (availability to coincide with product shipping). Use the digital designer to import a photo or digital image, saving a skin as a PDF for printing on a color printer.

Besides a unique, completely customizable design, the Optio RS1000 features 14 megapixels, a large three inch LCD monitor, a high-performance 4X optical zoom lens covering 27.5mm wide angle, and simple, user-friendly operation. Encased in a lightweight body about the size of a credit-card, the RS1000 is compact enough to carry anywhere. This latest PENTAX Optio will ship in October 2010 at $149.95 USD.

Also announced is the PENTAX Optio RZ10 digital compact camera. With a 10X optical zoom lens to capture a wide variety of subjects from travel and landscape to action and sports, the Optio RZ10 offers advanced features and handy functions that make photo shooting simple and effortless for everyone. The 10X zoom offers high-magnification from wide angle to telephoto, as well as powerful macro focus settings. The camera also features dual Shake Reduction (mechanical sensor-shift and digital) for effective blur reduction and an upgraded Auto Picture mode for "hands-off" selection of the most appropriate shooting settings. Sporting a simple and modern, yet functional exterior design, the camera will be available October 2010 in classic black, pure white, lime and violet for $219.95 USD.

More information is available here: www.pentaximaging.com

and product images are available here: www.pentaximaging.com/press/pressfiles.html

PENTAX Imaging Company is an innovative leader in the production of a variety of digital cameras including weather resistant digital SLRs and stylish, compact, waterproof cameras, as well as lenses, flash units, binoculars, scopes, and eyepieces. For over 90 years, PENTAX has developed durable, reliable products that meet the needs of consumers and businesses. With headquarters in Golden, Colorado, PENTAX Imaging Company is a division of PENTAX of America, Inc.

PENTAX OPTIO RS1000 FACT SHEET

PENTAX-original SKIN change system for personalized designs

The Optio RS1000 features a removable transparent acrylic panel on the face of the body, and there are four ways to personalize the PENTAX Optio RS1000:

1) Dress the camera in a choice of 11 (three plus eight) standard skins that ship with the product.

2) Use the included SKINIT gift card to design and order a free, high quality, pre-cut, 3M vinyl skin from www.skinit.com.

3) Use the included stencil to trace cutout lines to create a skin from printed photos, colored or wrapping papers, drawings, etc.

4) Download the PENTAX PERSONAL SKIN DESIGNER Adobe Air-based software from www.pentaximaging.com (timing to coincide with product shipping).

Personalizing the Optio RS1000 for yourself or someone special brings the fun back into photography. Ideas for use include gifts for wedding attendants, coaches and team parents, teachers, fashionistas, pet lovers, sports fans, corporate events, client gifts, anniversaries, retirements, new parents, scrap bookers, and anyone who is passionate about anything or is simply just hard-to-buy-for.

Exceptional image quality

Featuring 14 megapixels, a powerful imaging engine with superior noise reduction and the high-performance smc PENTAX optical zoom lens, the Optio RS1000 delivers brilliant, high-quality images with well-defined details.

Large, easy-to-view 3.0 inch LCD monitor

The Optio RS1000 features a large 3.0 inch bright color LCD monitor with approximately 230,000 dots for detailed image and menu viewing.

Optical 4X zoom lens with 27.5mm wide-angle coverage

The Optio RS1000 is equipped with a high-performance 4X optical zoom lens covering focal lengths from 27.5mm wide angle to 110mm telephoto (35mm equivalent). This wide zoom range helps capture a wide variety of subjects and scenes — from spectacular landscapes, majestic architecture and group shots within confined spaces, to tightly cropped snapshots from a distance. When coupled with the Intelligent Zoom function, which allows for even tighter zooming in on the subject, the zoom range can be extended to approximately 26.8 times.

Auto Picture mode for hands-off selection of the most appropriate shooting settings

The Optio RS1000 features the PENTAX Auto Picture mode to automatically select the most appropriate shooting setting for a given subject or scene by accurately assessing various photographic conditions. This user-friendly mode instantly selects one of the 15 shooting modes (eight conventional modes, plus seven new modes including Blue Sky and Sunset) and optimizes various camera settings, including sensitivity and shutter speed, to assure the best results with minimal effort by the photographer.

Automatic face detection for beautiful, lively snapshots

The Optio RS1000 features the sophisticated Face Detection AF & AE function to automatically detect and capture human faces. The Optio RS1000 is equipped with other convenient features to help photographers including Smile Capture that automatically releases the shutter the moment the camera detects the subject's smile and Natural Skin mode that captures subjects with smooth, healthy skin tones.

High-quality widescreen HD movie recording

The Optio RS1000 captures high-definition 720p movie clips (1280 x 720 pixels)* and is equipped with Movie Shake Reduction mode** to compensate for camera shake during movie shooting.

* When the Optio RS1000's AV output terminal is used, movie clips are output as normal-image-size data. If the user wishes to play back movie clips at high-definition-TV proportions (1280 x 720 pixels), the data must be transferred to a personal computer for playback.

** When the Movie SR mode is selected, the angle of view becomes narrower than normal shooting.

An assortment of digital filters for creative expression

The Optio RS1000 offers nine different digital filters including Toy Camera, Retro and Sepia to add various visual effects to recorded images without requiring a computer. The user can even apply multiple filters to a single image for more inventive visual effects.

Other features

• Digital Shake Reduction function to effectively compensate for camera shake during still-image shooting

• Burst Shooting at a speed of 16 images in two seconds (fixed at 640 x 480 pixels)

• Auto-tracking AF mode to keep constant focus on a moving subject

• Digital Panorama mode to effortlessly create a single panoramic picture from as many as three images

• Green mode to automatically optimize exposure and sensitivity settings for a given subject or scene

• Frame Composite function (with 20 frames stored in the camera) to shoot or compose images with decorative photo frames

• MediaImpression 2.0 for PENTAX software for image viewing, editing and filing applications (compatible with the latest operating systems, including Windows 7 and Mac OS X 10.6)

PENTAX, Optio and smc PENTAX are trademarks of HOYA CORPORATION.

ArcSoft, and its logo are either the registered trademark or trademark of ArcSoft Inc. in the United States and/or other countries.

Windows is a registered trademark of Microsoft Corporation in the United States and other countries.

This product supports PRINT Image Matching III. PRINT Image Matching enabled digital still cameras, printers and software help photographers to produce images more faithful to their intentions. Some functions are not available on printers that are not PRINT Image Matching III compliant.

Copyright 2001 Seiko Epson Corporation. All Rights Reserved.

Print Image Matching is a trademark of Seiko Epson Corporation.

The PRINT Image Matching logo is a trademark of Seiko Epson Corporation.

Mac OS is a trademark of Apple Inc., registered in the U.S. and other countries.

All other brands or product names are trademarks or registered trademarks of their respective companies.

Design and Specifications are subject to change without notice.

PENTAX OPTIO RZ10 FACT SHEET

Optical 10X zoom lens

Equipped with a high-performance 10X optical zoom lens covering focal lengths from 28mm wide angle to 280mm telephoto (in the 35mm format), the Optio RZ10 captures beautiful images with a wide range of subjects and scenes — from spectacular landscapes to fast-action sports events. The camera also provides high-quality macro focusing as close as one centimeter from the subject. Together with the Intelligent Zoom function for even tighter zooming in on the subject, the zoom range may be extended to approximately 67 times to cover the focal length of 1876mm super-telephoto lens (in the 35mm format).

Automatic shooting mode

The PENTAX-original Auto Picture mode is upgraded with new modes in the RZ10 to automatically select the most appropriate shooting mode for a given subject or scene by accurately assessing various photographic conditions on and around the subject. This user-friendly mode instantly and reliably selects one of 16 shooting modes (eight conventional modes plus eight new modes including Blue Sky, Sunset and Pet) and optimizes various camera settings including sensitivity and shutter speed to assure the best results with minimal effort by the photographers.

Dual shake reduction to assure sharp, blur-free images

With a mechanical CCD-shift-type Shake Reduction (SR) mechanism and Pixel Track SR, the Optio RZ10's dual shake reduction system minimizes camera shake and image blur more effectively to help ensure sharp images even during sunset, indoors without flash and when shooting with a telephoto lens.

High-quality, widescreen HD movie recording

Optio RZ10 users can enjoy high-quality movie shooting with minimal effort. The Optio RZ10 captures widescreen HD 720p movie clips (1280 x 720 pixels)* and comes equipped with the Movie SR (Shake Reduction) mode,** to automatically compensate for camera shake during movie shooting with the help of exclusive software.

* When the Optio RZ10's AV output terminal is used, movie clips are output as normal image-size data. If the user wishes to play back movie clips at high-definition TV proportions (1280 x 720 pixels), the data must be transferred to a personal computer for playback.

** When the Movie SR mode is selected, the angle of view becomes narrower than normal shooting.

Exceptional image quality

By coupling approximately 14 effective megapixels assuring exceptional image resolution with a high-performance imaging engine capable of reproducing true-to-life colors, the Optio RZ10 delivers brilliant, high-quality images with well-defined details. Even when images are enlarged to large sizes, users are assured of sharp, high-resolution prints with outstanding edge-to-edge sharpness.

Automatic face detection for beautiful, lively snapshots

The Optio RZ10 features the sophisticated Face Detection AF & AE function. This instantly and accurately detects up to 32 faces within the image field, then catches them in sharp focus and in optimum exposure in as little as 0.03 seconds — even when heads are tilted or faces are angled slightly away from the camera. The Optio RZ10 also comes equipped with other convenient features to assist the photographer in capturing beautiful, lively snapshots. These include: Smile Capture that automatically releases the shutter the moment the camera detects the subject's smile; and Blink Detection function that warns the photographer when the subject's eyes close at the time of shutter release.

Unique Pet mode for automatic detection of dog and cat faces

The Optio RZ10 features an improved Pet mode, which comes in handy when taking pictures of dogs and cats. This upgraded function not only assures far greater accuracy in detecting three pre-registered faces of dogs and cats, but is also capable of automatically detecting unregistered faces of dogs and cats, unlike the previous function.

Casual, all-purpose design for every occasion

The Optio RZ10's casual but stylish design makes it perfect to accompany its owner anywhere and on all occasions — on trips, for day-to-day snapshots, and at holiday events. It is designed to be functional and maneuverable, while meticulous attention has been given to every part of the camera body ergonomics, including: smoothly rounded edges; an easy-to-hold, rubber-coated grip; and a beautiful, lustrous alumite-finish black lens barrel. In addition to the standard color of chic black, the Optio RZ10 also comes in three vivid, lively colors designed to give it a sportier appearance.

Other features

Large, easy-to-view 2.7 inch color LCD monitor with approximately 230,000 dots

• Burst Shooting of up to 40 images at a maximum speed of 9.1 images per second

• Digital filters, including Toy Camera and Retro, to add creative visual effects

• Choice of three image sizes (4:3, 16:9 and 1:1) to accommodate different applications

• D-Range setting to prevent whitewashed (overexposed) and black-out (underexposed) areas in an image

• Digital Panorama mode to effortlessly create a single panoramic picture from as many as three images

• MediaImpression 2.0 for PENTAX software for image viewing, editing and filing application (compatible with the latest operating systems, including Windows 7 and Mac OS X 10.6)

• Eye-Fi connected: optimized for use with Eye-Fi wireless memory cards