Pentax K-r 12.4MP colorful DSLR outed plus new entry-level lens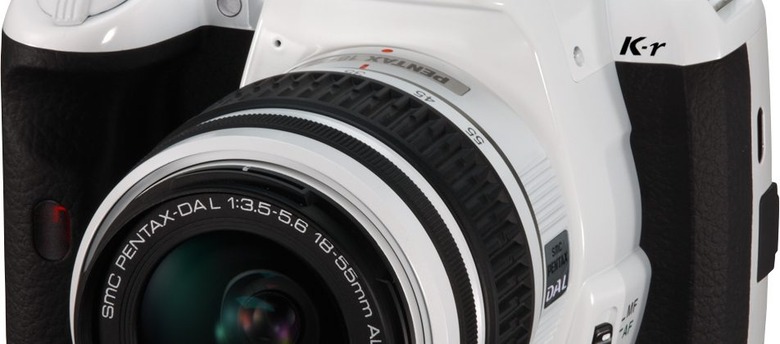 Pentax has revealed its latest DSLR, the 12.4-megapixel Pentax K-r, complete with a new 35mm lens to go with it.  The K-r – which will be available not only in sober black but in Stormtrooper white and brazen hussy red – has a 3-inch 920k dot LCD display, 6fps shooting for up to 25 frames, in-camera HDR editing and a 100 – 25600 ISO range.
It can also record 25fps 720p HD video, packs an 11 point SAFOX IX autofocus system and has a maximum 1/6000 second shutter speed.  There's also a homegrown shake reduction system and a dust-removal mechanism.
As for the companion lens, the Pentax DA 35mm F2.4 AL is targeted at entry-level DSLR buyers (though it will work with all the company's models) and will be priced at $219.95 when it arrives in October.  As for the Pentax K-r DSLR, that will be $799.95 body-only or $849.95 as the K-r Lens Kit with an 18-55 lens.  Two further double lens kits will be available, pairing the K-r with the 18-55 lens and either the 50-200 ($899.95) or 55-300 ($999.95) lenses.
Press Release:
PENTAX ANNOUNCES K-r DIGITAL SLR AND NEW 35MM LENS

GOLDEN, CO. September 8, 2010...PENTAX Imaging Systems Division has announced a new digital SLR line with color accents that allow owners to choose one that matches their personal style. The colorful PENTAX K-r DSLR camera offers advanced yet simple to use features at an attractive price.

The compact, lightweight PENTAX K-r is easy to use with Auto Picture, Scene, and Custom Image Processing modes that take the guesswork out of shooting stunning images while still offering a high degree of manual and priority control. The K-r offers a variety of new and improved features including a fast framerate, high ISO sensitivity, responsive autofocus, an improved 12.4 megapixel low-noise sensor and widescreen HD video capture that take it a step above an entry-level DSLR camera.

Key features of the PENTAX K-r that are new or have been improved upon from the most recent entry to mid-level PENTAX DSLR models include:

• Three stylish color choices include traditional black, the new classic white, and PENTAX red reflect any owner's personal style.

• Large 3 inch LCD with 921,000 dots of resolution.

• Faster high speed 6 FPS framerate that captures 25 images in a single sequence.

• A maximum 1/6000 second shutter speed.

• Viewfinder focus point indicator.

• Improved in-camera HDR image capture including a Night Scene HDR mode.

• High sensitivity 100-25600 ISO range with improved noise performance from the new 12.4 megapixel CMOS sensor.

• Versatile dual-power-source design, which offers the choice of either a rechargeable lithium-ion battery or four AA-size battery power (using optional AA Battery Holder D-BH109).

• Infrared data transfer compatible with the IrSimple™ high-speed infrared data transmission system for wireless data transfer to the web or other IrSimple-compatible devices (includes a match-game between two PENTAX K-r's).

Other important features of the new K-r models include:

• Widescreen 720p HD video at 25 FPS.

• PENTAX-original Shake Reduction mechanism for sharp, blur-free images that works with every PENTAX lens ever made

• Dust Removal mechanism, to shake dust off the CMOS image sensor.

• Highly responsive and accurate 11 point SAFOX IX autofocus system with dedicated AF assist lamp.

• Wide range of in-camera image processing and special effects filters.

With a highly portable, compact and lightweight body in a choice of colors, the K-r holds appeal for busy parents, family memory-keepers, travelers and anyone who reflects personal style in all their pursuits including their journey into photography or videography as a skill or hobby. The PENTAX K-r digital SLR will ship in October 2010 for as follows:

K-r Body Kit $799.95 USD

K-r Lens Kit w 18-55 $849.95 USD

K-r Double Lens Kit w 18-55, 50-200 $899.95 USD

K-r Double Lens Kit w 18-55, 55-300 $999.95 USD

PENTAX also announced the smc PENTAX DA 35mm F2.4 AL, standard lens designed exclusively for use with PENTAX digital SLR cameras. This new lens is versatile enough to be used with a wide range of subjects and applications for high-resolution images with edge-to-edge sharpness.

It is a perfect choice for digital SLR beginners to familiarize themselves with the basics of using interchangeable lenses.

The PENTAX DA 35mm F2.4 AL lens also will ship in October for $219.95 USD.

More information is available here: www.pentaximaging.com and product images are available

here: www.pentaximaging.com/press/pressfiles.html An information video is available here:

www.pentaximaging.com/pentaxian1

PENTAX Imaging Company is an innovative leader in the production of a variety of digital cameras including weather resistant digital SLRs and stylish, compact, waterproof cameras, as well as lenses, flash units, binoculars, scopes, and eyepieces. For over 90 years, PENTAX has developed durable, reliable products that meet the needs of consumers and businesses. With headquarters in Golden, Colorado, PENTAX Imaging Company is a division of PENTAX of America, Inc.