PENTAX K-70 DSLR can weather the elements better than you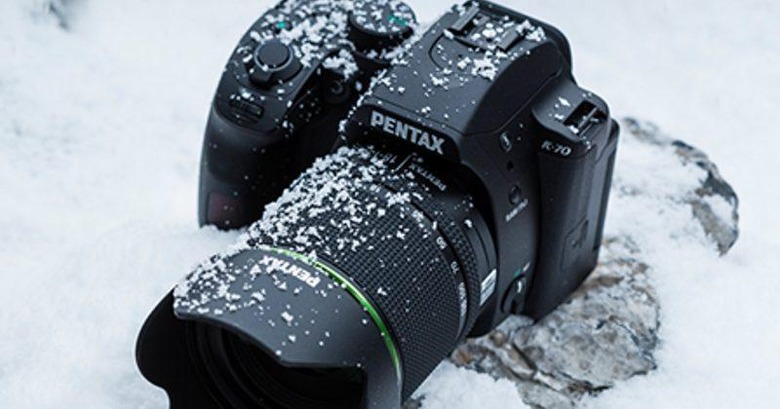 People today are more than ever more conscious of taking photos to capture fleeting moments into memories. Smartphones are, understandably, the immediate recourse but they aren't necessarily the best. There will always be room for more sophisticated DSLR camera, except for one problem. Not all of them can be taken wherever you go. Ricoh's latest PENTAX K-70, however, was designed specifically to address that problem. Combining a rugged design with features found only in high-end PENTAX models, the PENTAX K-70 was made to take photos and record videos even in conditions you yourself might not survive.
First of all, the PENTAX K-70 was built to withstand as much of the elements as possible, with a dust proof and water-resistant construction. It can even survive in the bitter cold down to 14° F (-10°C). But more than just the build, the camera's design also accommodates instances of harsh weather and conditions. The new grip design and the location of the mode dial and control buttons makes it possible to operate the camera even when wearing thick gloves. The LCD monitor's brightness can be easily adjusted to be viewable even in the bright outdoors.
Rugged isn't the only talent of this affordable DSLR. It combines some of the features found only in the more expensive PENTAX cameras with new technologies of its own. It boasts of a 24.24 megapixel sensor with an extra high ISO level of 102,400. This DSLR features PENTAX's first ever Hybrid AF system which combines image-plane phase-matching and contrast detection AF types into one. Also a first for a PENTAX DSLR, the K-70 enables continuous AF even while recording HD videos.
Other notable features include an optical viewfinder with a range of view near 100 degrees, a super fast shutter with a top speed of 1/6000 seconds, built-in wireless LAN for controlling remotely using a smartphone, and the capability to record videos in Full HD quality.
The PENTAX K-70's availability will be announced sometime in July but it is already revealed to have a price tag of $649.95.
SOURCE: Ricoh